In 1989 a 'Parade of Innocence' took place through Dublin city centre in celebration of the release of the Guildford Four and to campaign for the release of the Birmingham Six and others who were the victims of miscarriage of justice.
The march was led by Gerry Conlon and Paul Hill of the Guildford Four. The parade included model birds representing the Birmingham Six and other Irish prisoners. A symbolic 30 foot paper boat made up of tabloid newspaper headlines was set alight on the River Liffey.
The finale of the march was at the Central Bank, where Paul Hill addressed the crowd.
The Guildford Four, Paul Hill, Gerry Conlon, Paddy Armstrong and Carole Richardson, were released on 19 October 1989 after convictions against them were quashed.
Hugh Callaghan, Patrick Joseph Hill, Gerard Hunter, Richard McIlkenny, William Power and John Walker were imprisoned in 1975 for the Birmingham pub bombings. The bombings took place in November 1974 and were attributed to the IRA. Their convictions were quashed in 1991.
An RTÉ News report by Lorna Donlan broadcast on 9 December 1989.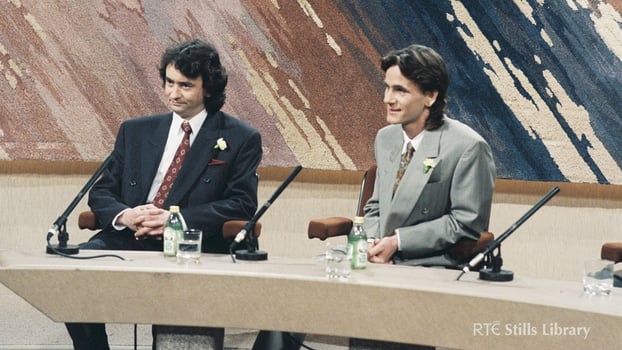 Gerry Conlon and Paul Hill on the Late Late Show (1989)