A march through Dublin protests over the Stalker affair and calls for the release of the Birmingham Six.
The march was organised by the Anti Extradition Committee. Almost two thousand people marched from Parnell Square to Dáil Éireann and back again to the General Post Office (GPO) on O'Connell Street.
Stop Extradition. Release the Birmingham Six.
Gardaí say that the protest passed off peacefully.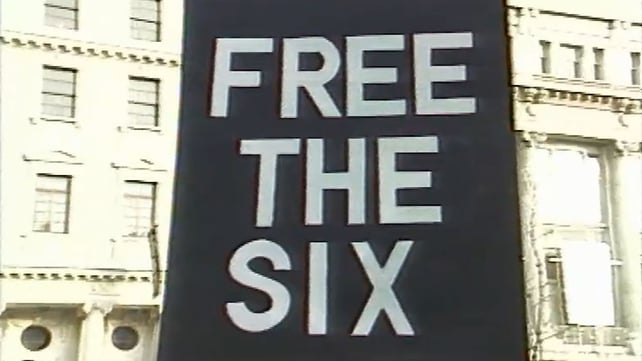 Birmingham Six Protest in Dublin (1988)
A number of Dublin City Councillors and TDS including Ned Brennan and Mary Mooney TD, Sinn Féin's Christy Burke, and Independents Tony Gregory TD, Alice Glenn and Sean Dublin Bay Loftus.
An RTÉ News report broadcast on 6 February 1988. The reporter is Gerry Reynolds.
On 21 November 1974, two bombs exploded in Birmingham killing 21 and injuring 182. Six Irishmen were arrested, convicted of the bombings, and sentenced to life in prison. Hugh Callaghan, Patrick Hill, Gerard Hunter, Richard McIlkenny, William Power and John Walker, became known as the Birmingham Six. They appealed their convictions and had their convictions quashed in 1991.