In 1991 the European Parliament in Strasbourg passed a resolution calling for an inquiry into the case of the Birmingham Six despite British conservative arguments that the six had exhausted all legal avenues of appeal.
Micheal Ó Huanachain reports from Strasbourg where Paul Hill of the Guildford Four, Niall Andrews MEP, and Minister for Foreign Affairs Gerard Collins speak about the parliament's resolution.
The presence of Paul Hill as a visitor to parliament gave added weight to the case for the Birmingham Six.
The resolution for an inquiry was carried by a majority of 3 to 1.
An RTÉ News report broadcast on 23 November 1989.
Patrick Joseph Hill, Hugh Callaghan, Gerard Hunter, Richard McIlkenny, John Walker and William Power were sentenced to life imprisonment in 1975 accused of the Birmingham pub bombings. After 16 years in prison their convictions were quashed by the Court of Appeal in 1991.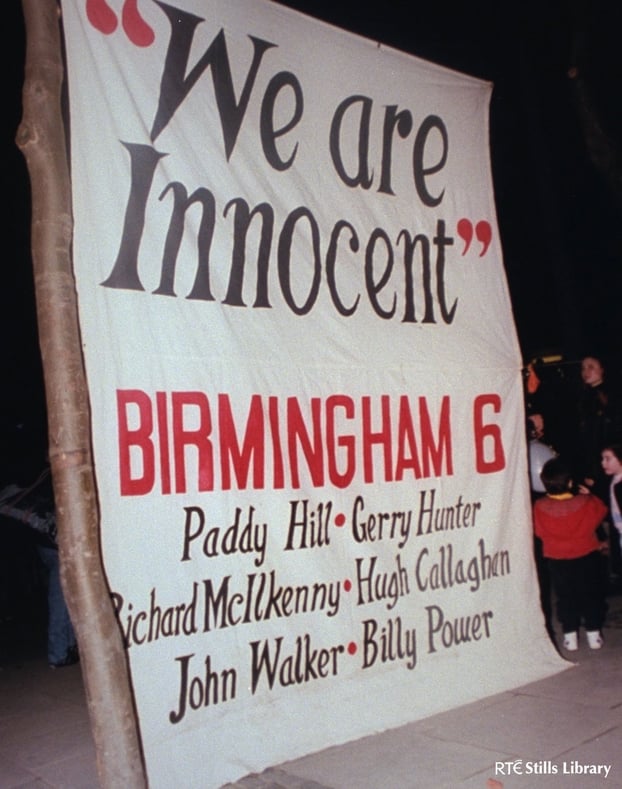 A 'Birmingham Six' demonstration in Dublin with a large banner entitled, "We are innocent".