Hosting the Eurovision Song Contest presented new challenges for RTÉ in both technical and artistic terms.
On 3 April 1971 Ireland hosted its first Eurovision Song Contest, having won the competition the previous year with Dana singing 'All Kinds of Everything'.
The day before the contest took place, RTÉ reporter John Ross visited the Gaiety Theatre in Dublin to witness rehearsals under way. This report includes interviews with Dana, who wishes all the contestants the best of luck, and presenter Bernadette Ní Ghallchoir, who rehearses her opening lines. We also get a glimpse behind the scenes as preparations for the live show take place. Monique Melson, the Luxembourg contestant, is pictured on stage rehearsing her song. RTÉ Head cameraman Ken Shannon is also seen in rehearsals. It will be his job to feed the pictures to the 40 commentary positions, which will feed on to the 29 countries taking the broadcast.
This was a huge undertaking for RTÉ with the contest being broadcast to "a thousand million viewers" around the globe in 29 countries. It was only the second time that RTÉ had done an outside broadcast in colour.
The 1971 contest was won by Monaco.
An RTÉ News report broadcast on 2 April 1971.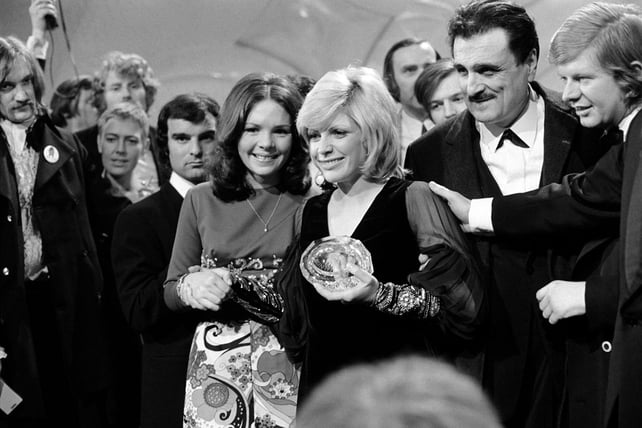 Séverine wins the Eurovision Song Contest for Monaco (1971)
| | |
| --- | --- |
| Title: | Preparations for 1st Eurovision in Ireland |
| Clip Duration: | 00:04:08 |
| Material Type: | Video |
| Clip Title: | RTÉ Broadcasts Around the World |
| Series Title: | RTÉ News |
| Information: | An RTÉ News report broadcast on 2 April 1970. |
| Local Keywords: | Eurovision Song Contest, Gaiety Theatre, 1971, Dana |
| Coverage: | Ireland |
| Topic: | Arts and Culture |
| Contributor(s): | John Ross (Reporter), Dana, Bernadette Ní Ghallchoir |
| Publisher: | RTÉ |
| First Broadcast Channel: | Telefís Éireann |
| Broadcast Date: | 02/04/1971 |
| Production Year: | 1971 |
| Country of Production: | Ireland |
| Original Identifier: | BA595 |
| IPR Restrictions: | Rights Reserved - Free Access |
| Rights, Terms and Conditions: | Copyright RTÉ. This material may not be replicated in any form or manner without the prior express permission of RTÉ. Any form of reproduction in print, television, video, multimedia, web site or other electronic media or any form of dissemination for commercial or non-commercial use must be licensed by the RTÉ Archives. If you wish to licence video or audio clips, still images or text, or would like further guidance please contact us. RTÉ Archives are committed to respecting the copyright of others and have attempted to source and credit the copyright owners of all material used here. RTÉ would like to hear from any copyright owners who are not properly identified here so that the necessary corrections can be made. If you feel your copyright has not been respected please contact us. |
| Item Type: | part/extract |
| Colour: | Black and White |
| Sound: | Mono |
| Aspect Ratio: | 4:3 |
| Language: | English (eng) |
| Original Language: | English (eng) |