Three young dreamers get to have a smashing time at Arklow Pottery.
The Dream Machine offers 'Youngline' viewers the chance to write in and request for their dream to come true. This week it is the turn of Aisling Kenna from Dublin who writes,
My dream is to smash a lot of cups because sometimes when I have to do the dishes I feel like smashing them on the ground.
Joined by her friends Justine and Antoinette Emoe, Aisling is brought to Arklow Pottery in County Wicklow. There, personnel manager Fred Kaye is on hand to make her dream come true.
Arklow Pottery makes 3.5 million pieces of decorative earthenware goods and general table crockery in a year. Imperfect pieces are deposited in a yard outside. Aisling Kenna and the twins are let loose on a pile pottery that is chipped, poorly decorated or badly marked.
After the girls have a smashing time, Fred Kaye presents each of them with a gift box of pottery to bring home.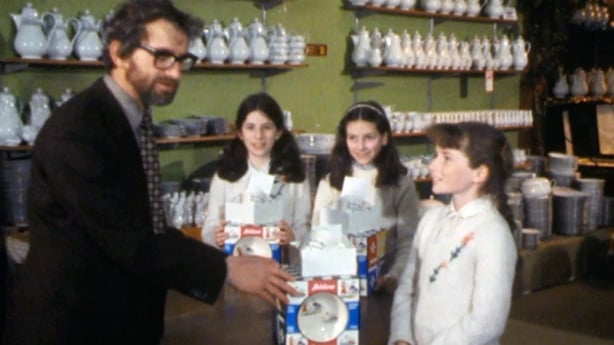 'Youngline' was a once weekly, half-hour magazine show for younger viewers. The first programme was broadcast on Tuesday, 23 November, 1976 and continued until May 1984.
This episode of 'Youngline' was broadcast on 22 March 1983.