Dubliner Dominic Murphy shares his hopes, dreams and ambitions for the future.
A look at how individuals move from childhood to adulthood and look to make their own way in life.
Nineteen year old Dominic Murphy left school after his 1974 Group Cert. He is now studying at night for his Leaving Certificate and working by day in an apprenticeship with a family run firm of silkscreen and lithographic artists and engravers in Dublin.
I want to know everything from a-z on how it works in our place.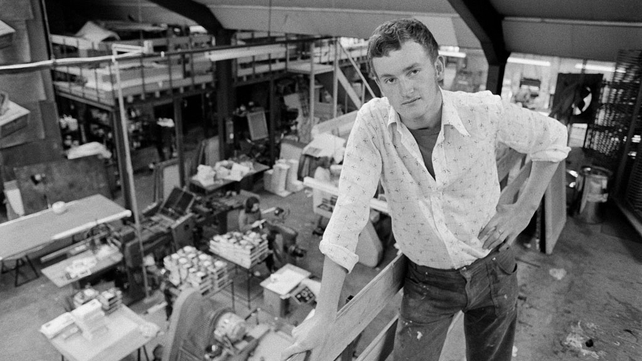 Dominic Murphy (1976)
Dominic shares his ambitions and talks about how he would like to further his career he has great admiration for his works manager.
Our work's manager is a genius he can be a bit of a boyo at times. He is very good he knows everything in the place...I'd like to be as good as him youn kow. I'd like it because the responsibility he has is fantastic. The kind of respect he gets people look up to him
Sometime in the future, Dominic would like to meet a "chick", get married and have a family. He is preparing for it and doesn't have any hangups about marriage. While Dominic takes Honda 50 motorcycle for a spin on Dollymount Strand viewers hear his hopes for marriage and setting up home.
The narrator John O'Donoghue compares the differences "teachers and desks machines and money". He muses on the carefree existence of small children whose needs are tended to.
Life was easy then we were washed, dressed, fed and sent to school and when we came home we played with some of the kids nearby
Today teenagers have to make decisions at the end of their educational journey that they hope will help them become the person they want to be.
In 1976, 18 young people who had left school and started in the workplace discussed issues such as first job, relationships and marriage, trade unions and ambitions in an RTÉ series titled "Out on your Own". This extract is from the last programme in the six part series.
'Out On Your Own: Dreams' was broadcast on 16 June 1976.