The village of Ireland in West Virginia is the home of road bowling in the United States.
Legend has it road bowling, played for centuries on Irish country roads, was brought to the United States of America by Irish soldiers during the Civil War.
The home of road bowling in the United States is the aptly named village of Ireland in West Virginia.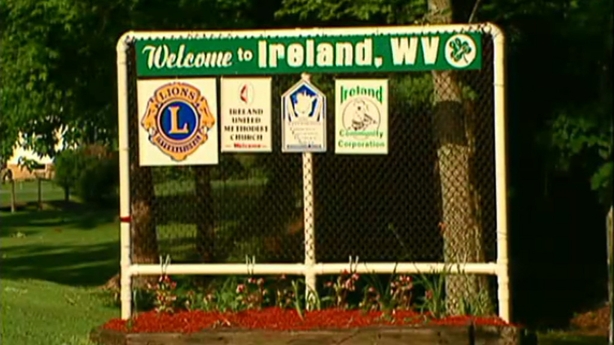 Jerod Puttnam, a road bowler attempting to finish a West Virginian country mile in the least number of throws of a steel ball, explains his attraction to the sport,
It's close to home and something dear to us, something unique to us in the United States.
Father Jerry McSweeney, originally from West Cork, has spent over 35 years in the Appalachian region. He is delighted to see such dedication to road bowling among local people,
It's just tremendous.
Every season there are 14 tournaments in West Virginia, culminating in a North American final that involves teams from New York and Boston.
It's competitive, but mostly an excuse for a good day out.
In 1995 an Irish Road Bowling Association was set up in West Virginia. Organiser David Powell believes the sport is hugely beneficial,
We want to get people out in the road away from television enjoying the beautiful country scenery we have here in West Virginia.
An RTÉ News report broadcast on 13 September 2007. The reporter is Robert Shortt.