Scenes from Derry the day after thirteen unarmed people died when the British army opened fire on a protest march.
On Sunday 30 January 1972, thirteen people were shot dead by the British army during a civil rights march in Derry. Another victim of the attacks died from his injuries four months later.
The following day in Derry, one man talking to RTÉ News questions the first report of what happened from the British army
They were supposed to be shooting at the people high in the flats. There was nobody shooting from there. But how if they were shooting so high in the flats did people get shot along the ground in the streets. Low down even in the gutter they were shot. Can you explain that?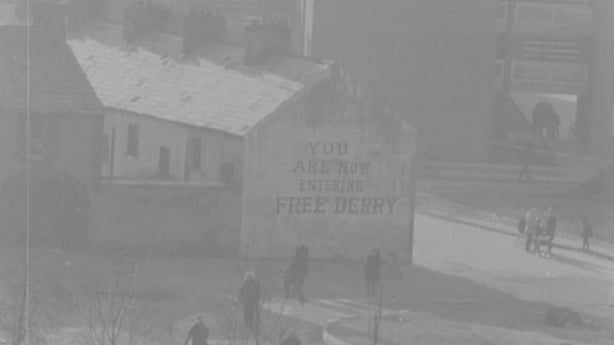 Shrines and crucifixes mark the spots where people lost their lives. Local people assess the damage around Rossville Flats with bullet holes in windows, spent bullets on the ground, and debris on the streets.
An RTÉ News report broadcast on 31 January 1972. This footage is partly mute.
The victims were John "Jackie" Duddy, Michael Kelly, Hugh Gilmour, William Nash, John Young, Michael McDaid, Kevin McElhinney, James "Jim" Wray, William McKinney, Gerard "Gerry" McKinney, Gerard "Gerry" Donaghy, Patrick Doherty, Bernard "Barney" McGuigan and John Johnston.