An architect's view of O'Connell Street the main thoroughfare of Dublin city.
Architect and historian Sean Rothery takes a walk down Dublin's O'Connell Street.
O'Connell Street is more than just the main street of Dublin or even its commercial centre. The street in fact symbolises the capital city. It's a mixture of history and modern development.
The street was completely transformed by the events of 1916. Despite this, the General Post Office which is one of the buildings that suffered the most during the Rising is one of the few buildings that survive today. The GPO is a reminder of the classical past of the street, formerly known as Sackville Street. The 18th century Sackville Street presented a very different place to the O'Connell Street of today.
There were unified facades of elegant brick houses with classical detailing on doorways, stone carvings and decorations and wrought iron.
Sean Rothery points to number 42 O'Connell Street which dates from 1752 as deserving of preservation.
Nowadays, the shop fronts on the street will win no prizes for design.
Cheap, plastic and of no craftsmenship.
One of the best buildings on the street is Clerys department store, modelled on Selfridges in London.
Clerys is really a modern building in classical dress.
The pedestrian view above street level presents a different picture with upper floors exhibiting an exuberance of architectural sculpture. This is especially evident in the corner buildings. One modern building which has not learnt from the past is home to BHS (British Home Stores).
One of the interesting things about O'Connell Street is the number of outdoor sculptures and monuments down the centre of the street. These include statues of Charles Stewart Parnell, Jim Larkin and of course Daniel O'Connell.
This episode of 'Face of the Earth' was broadcast on 13 October 1986. The programme was produced and directed by Adrian Moynes.
'Face of the Earth' was a series about the natural and human environment presented by David Cabot and Cianna Campbell.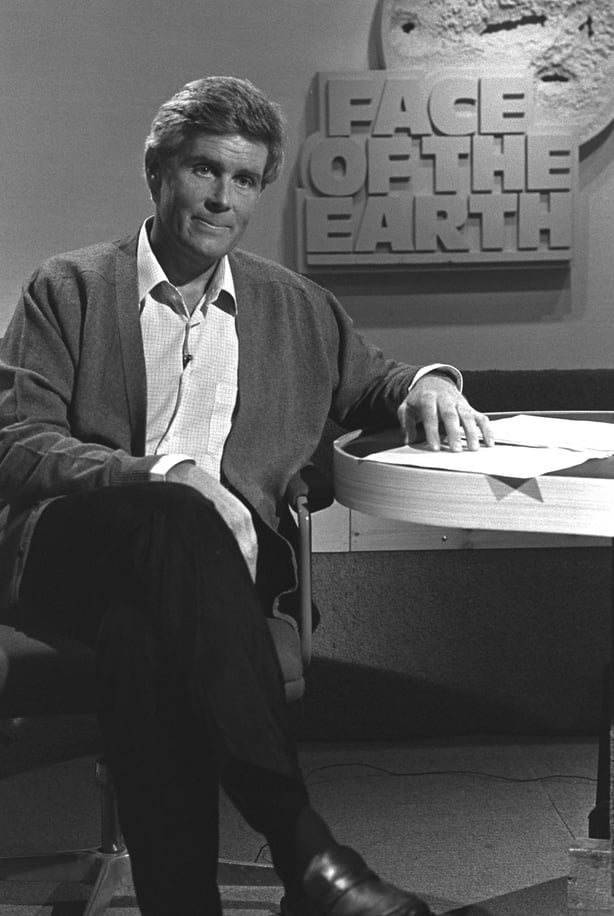 David Cabot presents 'Face of the Earth' (1986)