An example of modern Dublin architecture is destroyed. The Wiggins Teape building has been demolished.
The Wiggins Teape building on East Wall Road was a noted example art deco architecture but was not protected as a listed building.
It was built in 1931 for the Gallaher Tobacco Company by architect John Stevenson of Samuel Stevenson & Company, Belfast. The building changed ownership to Fry Cadbury during the 1930s and was renamed Alexandra House. It was acquired by Wiggins Teape in 1965 and renamed again as Gateway House.
The listing of a building protects it from demolition. Old buildings tend to be listed automatically but more modern buildings face an uncertain fate.
Campaigners are aghast at the destruction of the Wiggins Teape building. James Hanley is sick to his stomach looking at the destroyed factory he fought for a year to save.
This is part of architectural cultural heritage just gone, bulldozed today indiscriminately.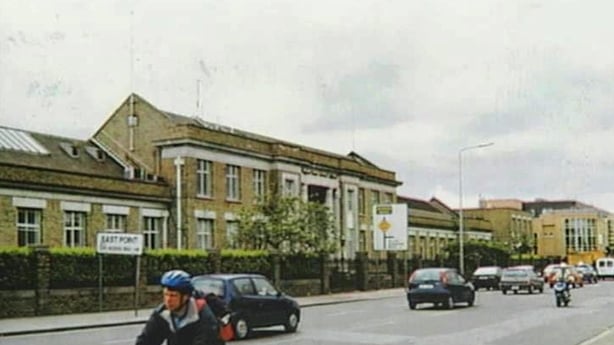 Wiggins Teape Building - Gateway House
The site is owned by the Collen Group who just three days ago were refused planning permission by An Bord Pleanála for an office development incorporating the original portico. The board said that
The Teape building was of architectural and historical significance and that its demolition would detract from the streetscape.
A spokesperson for the Collen Group said that at all times they operated within the law and that the derelict building had become dangerous.
An RTÉ News report broadcast on 16 June 2001. The reporter is Robert Shortt.