Amelia Stein describes her use of the revived craft of hand tinting photographs.
Women are not particularly prominent in Irish photography but Amelia Stein has, in a short time, established a reputation at home and abroad.
Starting out with theatrical work, Amelia has recently worked on book covers and record sleeves with U2 and The Pogues among her subjects.
Amelia first learnt about photography from her uncle who was a keen photographer and taught her darkroom techniques. She attended a night class at the College of Art but said it was a total waste of time. She found that the best way to learn was by trial and error.
Being stuck in the darkroom for hours trying to print unprintable negatives.
Amelia uses an old Hasselblad camera which she describes as a strong camera that works with a square format and large negatives. She uses natural light in the studio which requires a lot of compromises depending on the day.
For Amelia, it is essential that she print her own photographs as it gives her complete control over the final print. She says it would be incomplete to get someone else to process her photographs.
You can pull whatever mood you want out of a negative.
Amelia shows some of the work she has done through the years including photographs for theatre posters and newspapers. She explains how you can achieve very different photographs from the same negative depending on how the negative is treated during processing.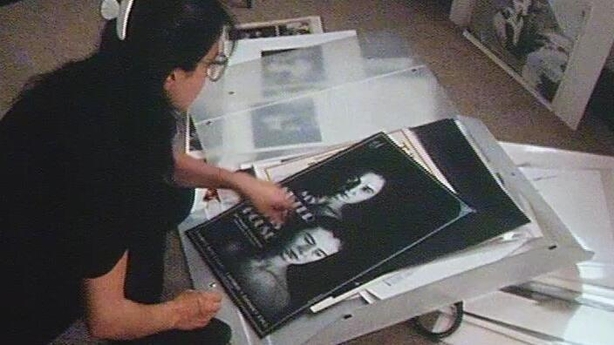 Amelia Stein at work
Amelia now specialises in hand tinting photographs which she became interested in while working in theatre. The process involves taking a black and white photograph and then applying what she calls "remembered colours" to the print.
This episode of 'Box Camera' was broadcast on 7 September 1986. This report is introduced by Aonghus McAnally.
'Box Camera' was a series of six half hour magazine style programmes with photograohy as its theme presented by Aonghus McAnally and Áine Lawlor.