Poet Richard Murphy recalls his earliest memories and discusses language and identity.
Richard Murphy was born in 1927 on the Galway Mayo border. He was educated mainly in England at the Canterbury Cathedral Choir School and the University of Oxford. In 1952, he had a job guarding a salmon river in the West of Ireland. It was then that he conceived the idea of going on an island holiday. He and his brother set out for Clare Island. However, they ended up going to Inishbofin instead. Out of this grew his long love affair with the island experience that is expressed in so much in his poetry.
His first major volume of poetry was called 'Sailing To An Island' and was published in 1963. He bought the Ave Maria, the last Galway Hooker, and operated a ferry service out of Cleggan to Inishbofin. He has been living in Cleggan for the last 15 years. His second major collection was titled 'The Battle of Aughrim' published in 1969. His most recent collection is 'High Island'.
Richard Murphy recalls his earliest memories and how they shaped his work. While living on the shores of Lough Corrib, he recalls a duck that he had which disappeared. Three weeks later, the duck returned with 12 ducklings. Many more of his childhood memories come from the time that his family had lived in Ceylon (now Sri Lanka).
Memories of Ceylon are full of terror.
He recalls the terrifying sounds of funerals going past his gate, the snakes in the compound, and the fear of mosquito bites.
Having spent time in England and Ceylon, his family very much identified themselves as Irish. As a child, he recalls being told that
We Irish spoke the King's English better than the King and that was quite good enough for me.
He recently wrote a poem on the subject of language and identity where he remembers at the age of six, standing in the garden of the family home in Colombo, Ceylon. Richard reads his poem 'The Coppersmith'.
This episode of 'Writer in Profile' was broadcast on 6 September 1976. The presenter is Augustine Martin. The programme was produced by James Plunkett.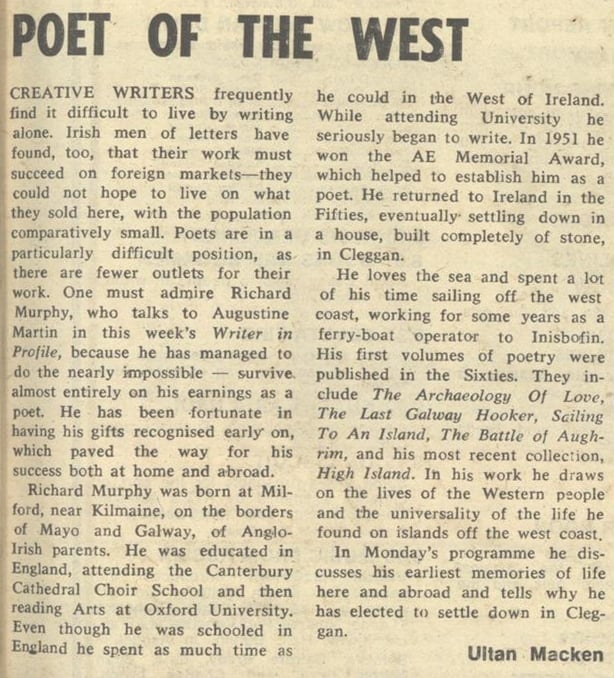 RTÉ Guide, 3 September 1976