Austin Clarke reflects on Irish society past and present.
Austin Clarke describes the social ills under which the poor are living and regrets the failure of a republican ideal which he believes has been betrayed.
When he sees the neglect of poetry and art, he recalls that vision of a more generous and courageous society that Irish writers had once looked forward to. To Austin Clarke, Ireland is still a land where God and Caesar are hand in glove.
This excerpt from the programme includes a reading of his poem 'The Flock At Dawn'.
Austin Clarke now lives in Templeogue but spent his childhood at Mountjoy Street in Dublin's north inner city. Clarke was the son of the superintendent of the Waste Waterworks at Dublin Corporation. Near his home stood the Church of Ireland St Mary's also known as 'The Black Church' which inspired his autobiography 'Twice Round The Black Church'. Local legend told that if went you went twice round the Black Church, the devil would appear.
That atmosphere of his childhood was Victorian, Catholic and rigid.
The Clarkes were typical of their time and place, deeply devotional and anti-ecumenical. This was the background against which the poet's work would be energised. An excerpt from his autobiography describes his relationship with his mother and their disagreements over religion and morality.
Like most writers of his generation. Austin Clarke had to fight his way through that tight network of sexual taboo that enclosed the young mind in Victorian Dublin.
'The Writers: Austin Clarke' was broadcast on 29 January 1968.
The poems are read by Clarke himself and by Denis Brennan. The commentary is written and spoken by Augustine Martin. The programme was produced by Adrian Cronin.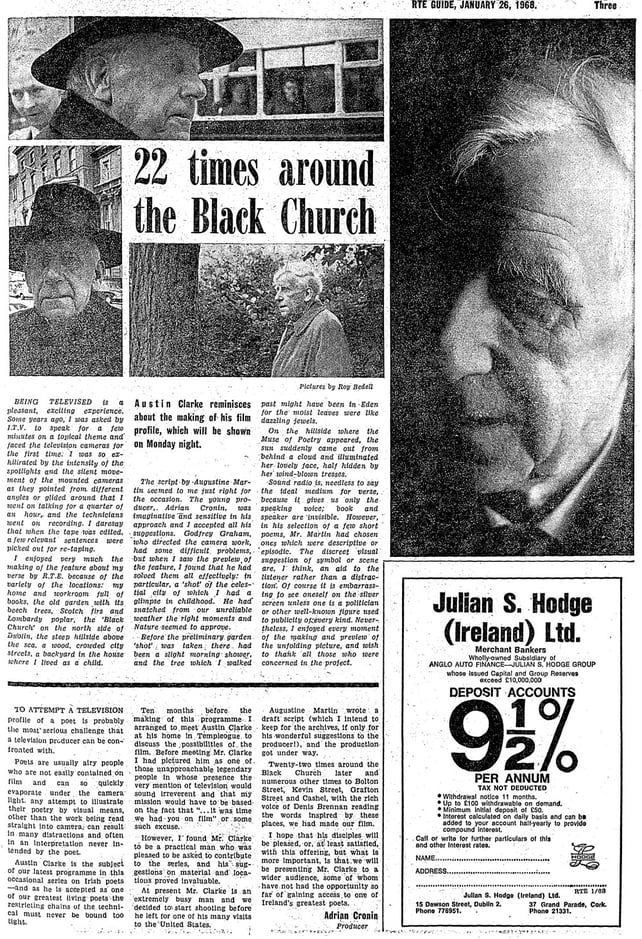 RTÉ Guide, 26 January 1968 page 3