The people and village of Croom in Limerick are the stars in this opening sequence of 'Hall's Pictorial Weekly'.
As the people of Croom go about their daily lives, they take time to pose for the cameras.
One local man even brought his own camera out to document the visit of the RTÉ crew to the village.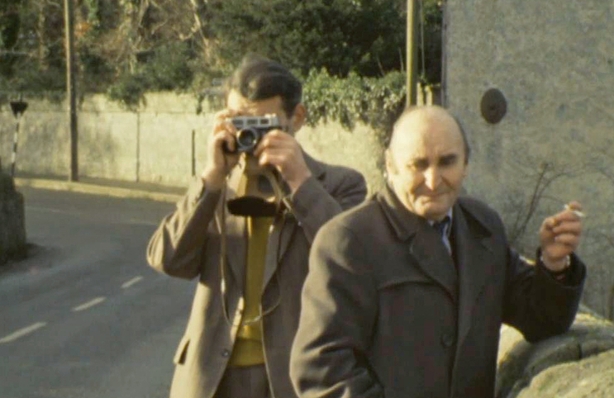 Photographing the cameramen in Croom.
Frank Hall's amusing and satirical series began on 29 September 1971 with the full title 'Hall's Pictorial Weekly Incorporating the Provincial Vindicator' which became known as 'Hall's Pictorial Weekly'.
The series allowed Frank Hall to follow his own interest in the lives of viewers throughout the country.
Regarded as RTÉ's flagship comedy show, it featured satirical sketches on current news stories and popular culture, as well as parody songs, comedy sketches, re-edited videos, cartoons and spoof television formats.
The show ran for nine series until 1980.
This episode of 'Hall's Pictorial Weekly' broadcast on 29 January 1976.