The people of the village of Oola in Limerick are the stars of this opening sequence to 'Hall's Pictorial Weekly'.
Some of the Oola residents are not to keen on the camera, as they seek shelter behind hedges, duck into a shop, or simply wheel their bicycles away in the opposite direction.
Surrounded by hills from which its name is most likely derived, Oola, in Irish 'Na h-Úlla' or 'Úlla' is in the barony of Coonagh. It is situated on the main Limerick to Waterford Road near the Tipperary border. Oola Castle, a sixteenth century ruined tower house, stands not far away.
The village is approximately eight kilometres from Soloheadbeg, site of the first action of the War of Independence on 21 January 1919.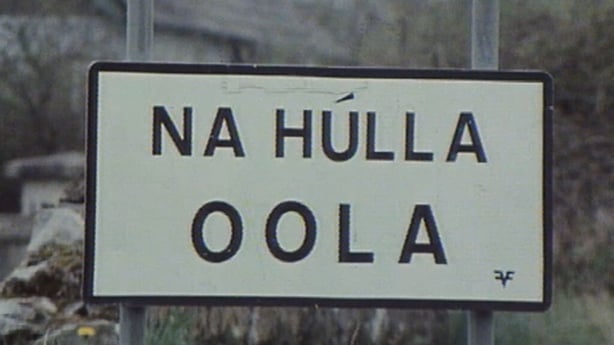 Oola road sign (1979)
Once a week, from June to September, the 'Hall's Pictorial Weekly' film crew would arrive at a town or village in any county in Ireland. They would film the people and the place and return to RTÉ where the footage was edited and put to music.
This short film of around one minute's duration formed part of the opening sequence for that week's episode. No one knew which location had been chosen, and it was not advertised as part of the programme billings in the RTÉ Guide or newspapers.
So with this in mind, people the length and breadth of the country tuned in religiously, in case it was the turn of their town or village to have its few minutes of fame.
This episode of 'Hall's Pictorial Weekly' was broadcast on 30 May 1979.