The minimum height requirement to become a member of the Garda Síochana is to be abolished.
Minister for Justice John O'Donoghue announced that the height requirement for new members of An Garda Síochána is to be removed. He believes that the rules were unfair to many. The minister also announced the introduction of new testing procedures for anyone looking to become a Garda.
Even young people may no longer look up to young people as they have in the past.
Until now, men joining the force had to be at least 5' 9" and for women, it was 5' 5". These preconditions led to accusations of discrimination and by the end of the year, these requirements will be no more.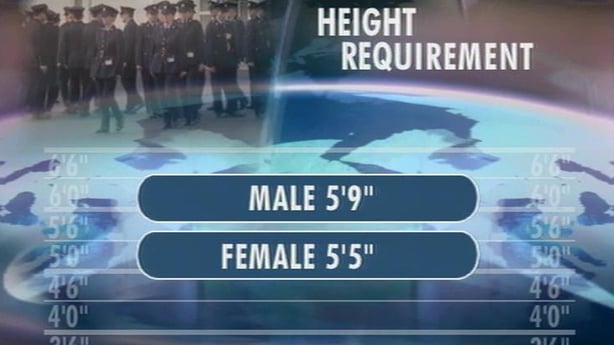 Garda Height Requirements (2001)
Entry to the Garda Síochana will now be based on physical competence and brainpower rather than height. John O'Donoghue also said that the height requirement meant that certain ethnic groups were excluded from applying to join An Garda Síochána as they were naturally smaller than the Irish.
Once a tough new physical test is passed, then anyone of any height could join.
An RTÉ News report broadcast on 30 January 2001. The reporter is Michael O'Kane.