Welcome to the 21st anniversary of the programme 'Garda Patrol'
The first episode of 'Garda Patrol' was broadcast on 28 October 1964. Introducing Garda Patrol 21 years later presenter Sergeant Tommy Burns outlines the aims of the programme when it started out,
The original objectives of our programme were and still are firstly to offer advice on how to defeat the criminal and outsmart him in his efforts and secondly to seek your help in bringing offenders to justice.
Director General of RTÉ Vincent Finn describes the occasion as extremely significant stating
It's not often in television that any programme is able to mark its 21st anniversary.
He also comments on the unique relationship between the Gardaí and RTÉ in broadcasting terms.
On average about 800,000 people watch Garda Patrol each week and Sergeant Tommy Burns pays homage to the public support which has helped in solving so many crimes over the years, and also commends the efforts of the Neighbourhood Watch and Community Alert schemes. He adds,
Compared with many other countries ours is still a relatively peaceful place, where the quality of life is good. It's our intention with your help to keep it that way.
The anniversary programme also shows the very first presenters of Garda Patrol - Seamus McPhillips, Vincent Smith, Edward Russell, and Terry Brady, who still presents the programme.
This edition of Garda Patrol was first broadcast 24 October 1985.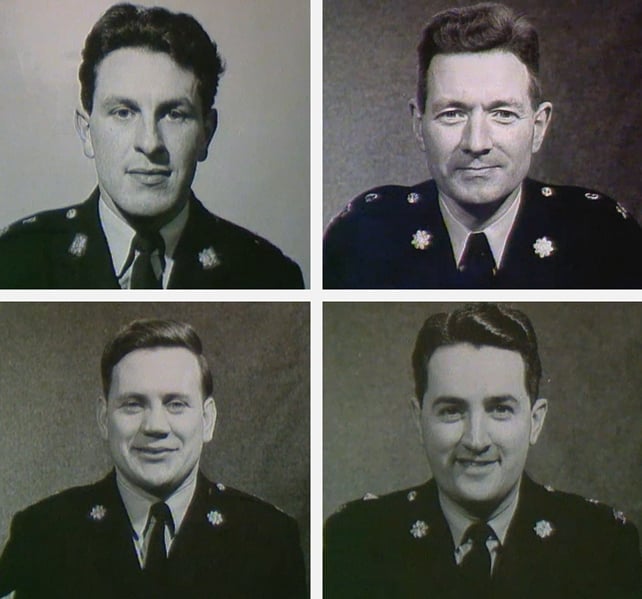 Garda Patrol - Seamus McPhillips, Vincent Smith, Edward Russell, and Terry Brady