On 21 February 1964, the Garda Síochána training centre opened at Templemore, County Tipperary.
The Garda College, the facility at Templemore is where recruits to the Irish police force are trained. The 'Discovery' series visits the new centre to find out what trainee Irish police officers undergo.
A healthy mind in a healthy body.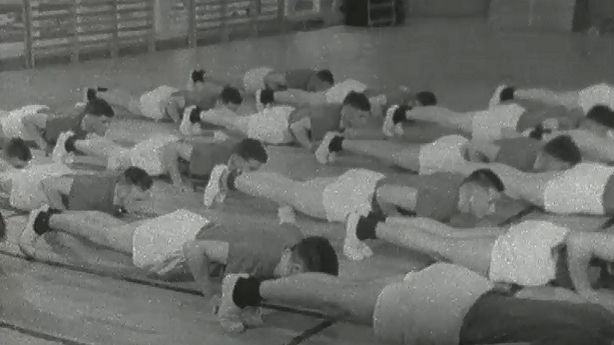 The trainee recruits undergo a rigorous physical training regime in the Templemore gym.
It is well on the way to becoming probably the fittest police body in the world.
Recruits undergo an 18-week training course involving gym work, marching, counter-marching, study and exams.
Their race is against the law breaker. It is equally against time, the time that it takes to walk a beat, the hours of standing and waiting. Walking or waiting, physical endurance is called for.
This episode of Discovery was broadcast on 30 November 1964. The reporter is P P O'Reilly.
Discovery was a documentary series broadcast on RTE between 1964 and 1967. Discovery, which first aired on Tuesday, 14 January 1964 touched on many aspects of Irish life with an occasional spotlight on events of particular interest.