Religious ceremonies in Dublin mark the Golden Jubilee of An Garda Síochána.
Members of the Garda Síochána, political leaders, the Taoiseach and the President gather at the Mount Argus, in Dublin, for a special Commemorative Mass to mark fifty years of An Garda Síochána's service to the State.
Taoiseach Jack Lynch can be seen arriving, as can Labour Party leader Brendan Corish, Fine Gael leader Liam Cosgrave, and Charles Haughey. President Éamon De Valera, accompanied by his aide-de-camp Colonel Brennan, inspects a guard of honour drawn from recruits at Templemore.
Roman Catholic Archbishop of Dublin, Most Reverend Dr Dermot Ryan, celebrated Mass in the church of St Paul of the Cross, Mount Argus, and acknowledged the original members of the force, who joined when it was founded in 1922, and their families,
Nearly a thousand of the original recruits are still with us. To share the sense of achievement which marks this occasion, we remember the support given to these men by their families...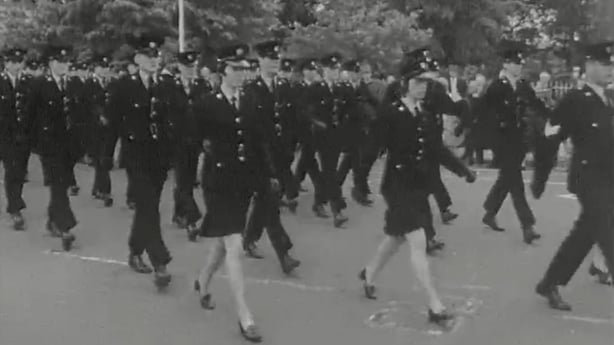 Gardaí march to Mount Argus for Mass to commemorate 50 years of An Garda Síochána (1972)
Upon leaving Mount Argus, the Garda Band leads marching Gardaí to Saint Patrick's Cathedral. Only a stone's throw away from Kevin Street Garda Station, the cathedral bells ring out for another tribute, led by Anglican Archbishop of Dublin, Most Reverend Dr Alan Buchanan. Desmond O'Malley can be seen seated in the cathedral prior to the service, which commences with the procession of the Cathedral Choir and clergy.
An RTÉ News report broadcast on 13 June 1972.