The look of fear on a young boy's face was one of the defining images on a night of rioting at Lansdowne Road.
In February the Republic of Ireland played England in a friendly international at Lansdowne Road. In the first of a series of reports on children who made the headlines in 1995, RTÉ News meets young football fan James Eager who witnessed the Lansdowne riots.
James' father is a former League of Ireland player and his whole family share his love of the game of football.
Eight year old James Eager is soccer crazy.
James Eager was taken to the game as a treat. However, it turned into a night of terror when some English fans went on the rampage. The image young of James Eager, a picture of lost innocence that appeared in media coverage of the riots turned him into an overnight celebrity.
James Eager does not remember much about the violence of that night. The picture that appeared in the media briefly made James as famous as many of football stars. He even made an appearance on 'The Den' with Ray, Dustin and Socky.
Since that night, James Eager has had the opportunity to attend many more matches and has many better memories of 1995. He even got to see the Republic of Ireland play at Anfield. Despite Ireland's loss to the Netherlands 2-0, the Irish fans rendition of 'You'll Never Walk Alone' made a lasting impression.
Like all young boys his age, James wants to be a footballer when he grows up.
With aspirations to be a professional footballer, James Eager currently plays in goal for Greystones Under 9s C. He would like to play for Manchester United and might even consider playing for the Republic of Ireland.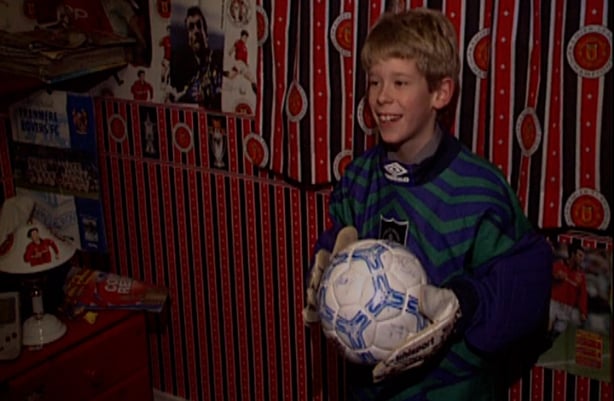 James Eager in Alan Kelly's jersey and gloves (1995)
Republic of Ireland goalkeeper Alan Kelly gave James his jersey and gloves, something to grow into.
An RTÉ News reports on 19 December 1995. The reporter is Gareth O'Connor.