With violence at football grounds in England on the rise could this tribal warfare infiltrate Irish sport?
Violence on match day has become more commonplace in England. Could Ireland be facing a similar issue at sports events?
Almost any Saturday afternoon in England, the whole cult of going to the soccer match has become part of life. But in recent years, violence, a rather sinister and unpleasant street violence and football ground violence has reared its unpleasant and increasingly dangerous head.
Football violence is not exclusive to England. In recent years trouble broke out at a match in Croke Park. More attention is now being paid to this increasingly dangerous phenomenon.
Dr Paul Harrison of the magazine 'New Society' describes the English soccer hooligan from a sociological perspective in terms of two key types.
There is a small group of dedicated sadists who attend matches for one reason only and that is for the violence. They are not very interested in football itself. You only need one or two people of this kind to start trouble.
The second type is a fanatical loyalist who is devoted to his team and reacts to any insult with offended pride and often with violence. This type of person will respond to an incident started by the dedicated sadist and the situation escalates.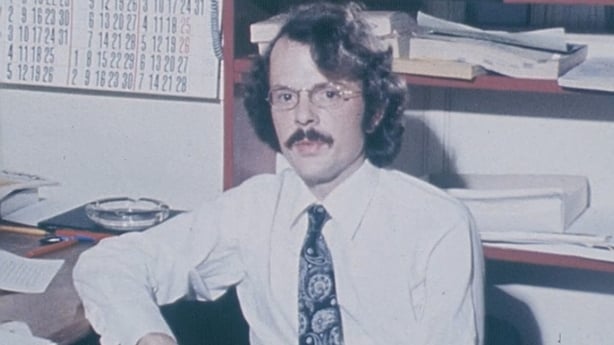 Dr Paul Harrison
Dr Harrison attempts to identify how these types of personalities develop and makes an analogy with riots in Ancient Rome. He suggests that the best solution may be to let rival sides do what they want and beat each other up.
Whether Dr Harrison's description applies to Irish football fans is questionable. Gaelic football is defined by the age old conflict between Culchies and Jackeens, a conflict which is described as pretty harmless. The 1974 All Ireland Football Final between Dublin and Galway has a more celebratory atmosphere than the tensions felt at games in Britain. Dublin supporters on Hill 16 may imitate English soccer club supporters with their songs and dress style but there is little or no violence in the expression of tribal difference between rival GAA supporters.
While crime may be on the increase in Ireland, it cannot be entirely be attributed to sport.
This episode of 'Seven Days' was broadcast on 24 September 1974. The reporter is Patrick Gallagher.