Booing, Nazi salutes and rioting at Lansdowne Road as the Republic of Ireland play England.
Rioting English football supporters cause the cancellation of the Republic of Ireland v England soccer international in Dublin.
The worst scenes of violence at an Irish international soccer match.
On the day following the trouble, RTÉ News asks how did it happen and who is at fault?
Described as the worst scenes of violence ever witnessed at an Irish international football match, questions over what happened must be answered by the Gardaí and Football Association of Ireland (FAI).
Trouble was in the air from the kick-off with booing and nazi salutes during the national anthem. Violence erupted in the minutes after David Kelly scored a goal for Ireland. The game was abandoned after 27 minutes of play.
Both the Gardaí and the FAI have questions to answer. Why were the Irish fans mixed in with the English fans? Were the security arrangements adequate? What about the Garda presence at the match?
Supporters Alan Hunter, Brian Doody and Brian Murphy talk about their experiences at the game. Sean Connolly, Chief Executive of the FAI, says that the organisation will be carrying out its own full internal investigation of what happened.
An RTÉ News report broadcast on 16 February 1995. The reporter is Charlie Bird.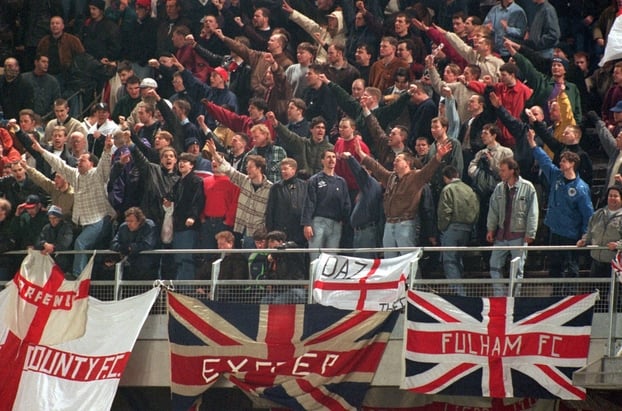 England Fans at Lansdowne Road (1995)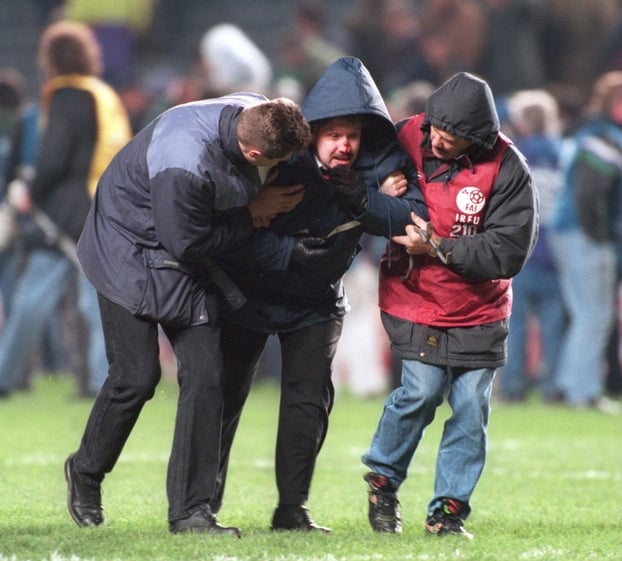 Ireland fan being helped by stewards after being hit by a missile