Dublin Bus introduces security cameras in an attempt to deter the increasing incidents of anti-social behaviour on city buses.
It is estimated that damage caused by vandalism now costs Dublin Bus three quarters of a million pounds every year.
On average, there are twenty five bus crews off work every week as a result of violent assaults.
New video surveillance cameras are now being installed on buses in the hope of reducing violent incidents. Passengers will now be filmed boarding the bus and there will be an additional camera upstairs on buses. The installation of the cameras will cost Dublin Bus a quarter of a million pounds but they hope that the costs will be recouped within a year.
Managing Director of Dublin Bus John Hynes explains.
When you board a bus, you'll be taped on the videotape as you come in the front door and as you sit upstairs, if you're a vandal and start to wreck seats, you'll be taped in the very act of doing it.
Where incidents occur, the tapes will be handed over the Gardaí. John Hynes says that this system has been very successful in other jurisdictions in prosecuting vandals and robbers.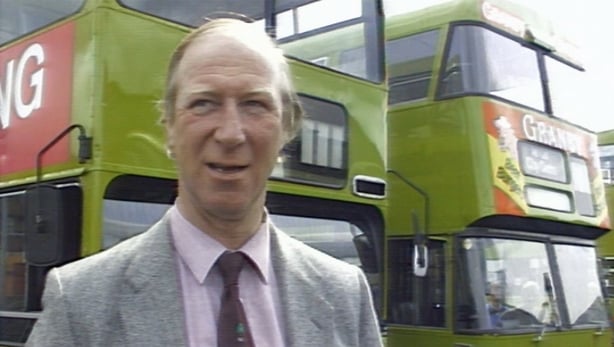 Jack Charlton supports Dublin Bus campaign to end violence and vandalism (1989)
Dublin Bus has also enlisted the support of Irish soccer team manager Jack Charlton in a campaign to increase awareness among school children of the damage caused by vandalism and encourage them to respect public transport.
Jack Charlton explains his involvement in the campaign and emphasises the importance of the service provided by Dublin Bus.
It's a shame when we get the odd mindless person who would vandalise them or in fact commit violence on them and threaten drivers. I don't think it's right.
An RTÉ News report broadcast on 24 April 1989. The reporter is Alan McCullough.