For the first time a College League American Football Game is played outside of the US at Lansdowne Road Rugby Ground in Dublin in 1988, the year of the Dublin Millennium.
The game saw Boston College Eagles take on West Point Army Cadets.
Charlie Bird reports from Lansdowne Road where the Eagles of Boston College take on the Cadets of Army. In true American style, the ball for the game is delivered from the air by parachute which lands in the middle of the pitch.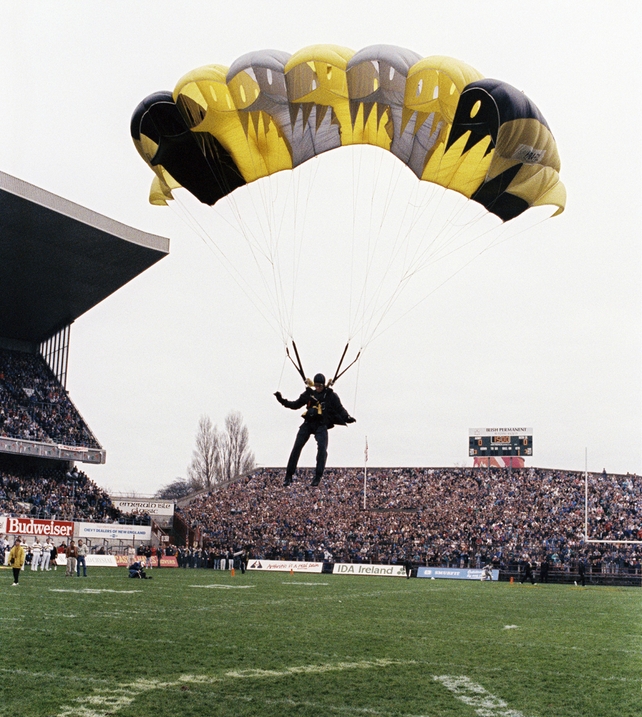 Ball delivered by parachute at Lansdowne Road (1988)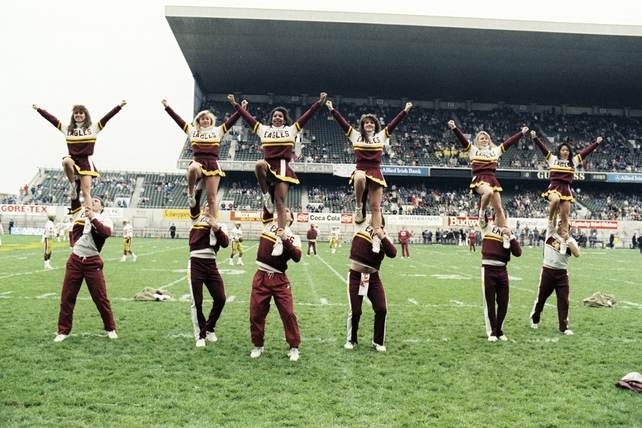 Majorettes warming up before the game between Boston College and West Point (1988)
During the pre-match warm up the crowd is entertained by majorettes. During the game the crowd are pictured doing the Mexican Wave and are joined by Tánaiste Brian Lenihan and Minister for Tourism and Transport John Wilson. Against all the pre-match odds, Boston College dominated the game from the outset. Player performance was helped by instant communication from the sideline with coaches in the stand via telephone.
The home of Irish rugby had never seen anything like it. It was American razzmatazz in all its glory.
The £2 million spectacular is watched by over 40,000 people packed into Lansdowne Road and on television live across America. The first ever College League American Football Game to be played in Europe went on for over four hours. With over 10,000 American visitors in Dublin for the game, the event is expected to generate around £20 million for the economy.
Charlie Bird talks to members of the crowd as well as Cardinal Tomas O Fiach, Tánaiste Brian Lenihan and Mayor of Boston Raymond Flynn to get their reactions to the game.
Boston College won the game 38 points to 24.
An RTÉ News report broadcast on 19 November 1988. The reporter is Charlie Bird.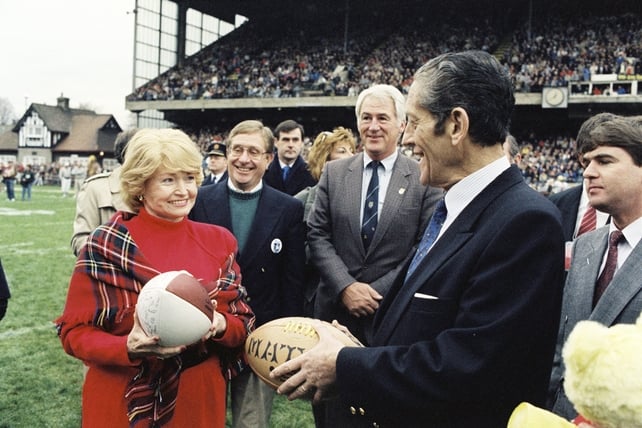 Margaret Heckler and Brian Lenihan (1988)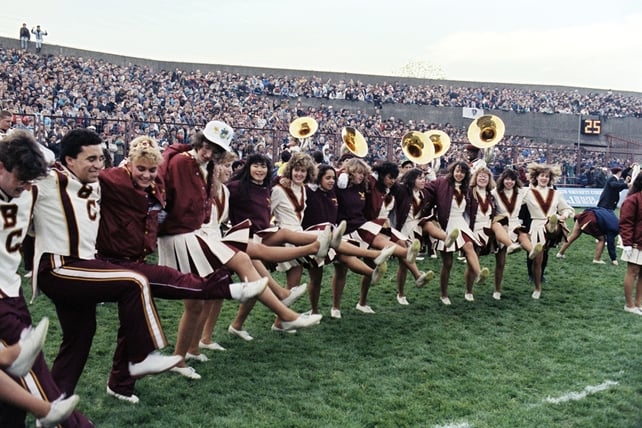 Cheerleaders and a brass band at Lansdowne Road (1988)
All photos by Thomas Holton.