Dublin retailers go all out to attract business and bring shoppers back to the city centre.
Dublin Chamber of Commerce, CIE Dublin city services and the City Centre Business Association have joined forces to encourage people to travel to the city centre to shop.
In Dublin, plans have been announced to try and revitalise trade in the city centre shops.
The campaign initiatives include the extension of shoppers' fares on Dublin buses. Retail outlets will illuminate their windows until two o'clock in the morning to attract window shoppers and,
To give the city centre an air of gaiety.
Michael Costelloe of the City Centre Business Association tells RTÉ News about the plans to lure shoppers to city centre shops and away from out of town shopping centres.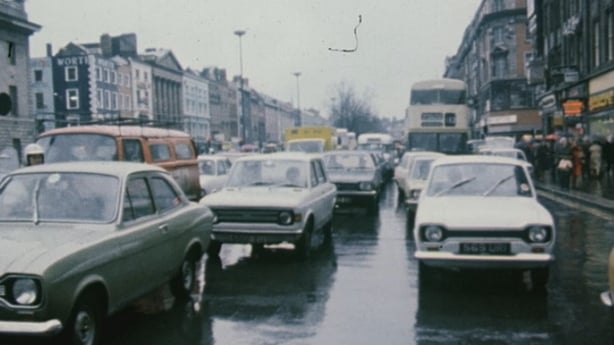 O'Connell Street traffic (1975)
We consider Dublin and the centre of Dublin as the shopping centre of Ireland.
Michael Costolloe believes the most vital thing that any city centre needs to survive is people. The centre of Dublin must be made more attractive to visitors. The Dublin bombings of 1974 have adversely affected footfall in the city. Parking restrictions as a result of the bombings have directly affected trade. Now, new parking facilities have been added to the city to attract commuter shoppers.
Michael Costelloe is confident that they will be successful in attracting more shoppers to the city.
Trade means people and people are important to any city centre.
An RTÉ News report broadcast on 2 December 1975. The reporter is Colm Connolly.