A super spud is not too small a story to make the front page of The Longford News.
'PM' takes a look at how local recent events are reported and printed in The Longford News. It is not every day that a story about super spuds makes the front page of a newspaper, but at The Longford News stories are a little more local.
Jimmy Bennett, barber and Secretary of the Longford Historical Society has stories of local interest for journalist Alan O'Keeffe.
Once the stories have been written, work begins on preparing the layout by hand with graphic artist Noel Strange. Then it's off to the print room where ten thousand copies of the paper are printed for local and international distribution.
Using traditional methods, Tommy Shiels uses a hot metal linotype process, described as "a minor miracle in mechanical engineering". Nowadays, many newspapers use more advanced technology providing greater speed and automation. At The Longford News, traditional printing methods are still in use on a printing press acquired thirty years ago.
It may not be the most modern printing press in the world, but it is reliable.
Once the paper is printed it must be distributed. Bundles are made up for the Longford town deliveries which are taken by hand to the local newsagents. At county level, deliveries take a quite a battering as they are thrown from cars in villages and towns in the region.
The Longford News may never have a world scoop but it does have an international circulation.
Peggy Kelly is responsible for sending out copies to the sons and daughters of Longford around the world where John Fagan's super spuds become international news.
This episode of 'PM' was broadcast on 24 October 1978. The reporter is Pat Kenny.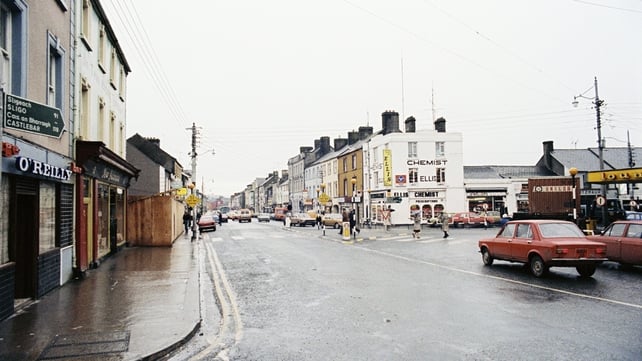 Longford Town (1980)