Despite an end to government investment, the construction of an airport at Knock continues with the help of private donations.
The construction of the Connaught Regional Airport in Knock County Mayo is partly completed, partly abandoned and caught in the middle of a political tug-of-war.
One of the most spectacular sites west of the Shannon. A ten million pound airport sitting on the top of a low hill.
Over a mile of runway has already been laid on the six hundred acre site and the plan is to make the runway as long as that of Dublin airport, 7,500 feet in total.
The government has now stated that it is not putting another penny into the venture. However, work on the airport carries on with the 12,000 square foot terminal building beginning to take shape. Since July, all of the work is being funded entirely by voluntary contributions to the fundraising committee known as the Knock Friends Association. It is believed that close to three-quarters of a million pounds has been taken in donations from all over Ireland and internationally.
This is one of Monsignor Horan's biggest triumphs so far.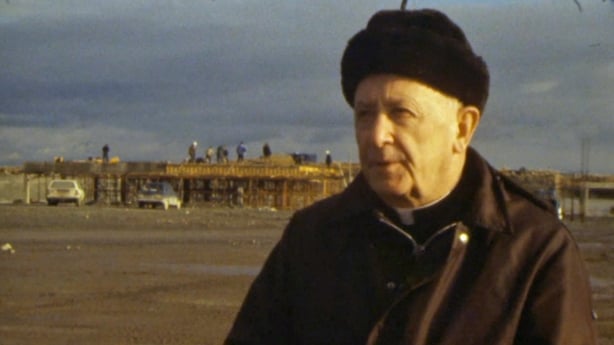 Monsignor Horan (1984)
Monsignor Horan tells RTÉ News about future state involvement in the airport. He believes that the government is in breach of a grant aid agreement. If they are not willing to fulfill their side of the agreement, then the airport authority should also be released from any obligations leaving them free to invite equity to get the money to complete the project.
To date, the government has invested around ten million pounds of tax payers money in the airport.
Two members of the fundraising committee, James and Mary O'Donoghue, recently went on a fundraising drive to the USA and have returned with promises of more money and a plan for a five million pound industrial zone around the airport. James O'Donoghue is looking for five million pounds for the establishment of a tax free industrial zone similar to Shannon. The objective is to provide employment for future generations of the region.
Since the government decided to stop financing the project six months ago, there has been a constant stream of support for the airport from all over the country and overseas.
For Monsignor Horan, who has been featured on countless television programmes all over the world, it's the kind of moral support which he says will ensure that the airport is finalised.
There is now a new deadline for completion of the airport at Knock by mid summer 1985 and Secretary of Connaught Regional Airport Jim Ryan is confident that the airport will be operational by next June.
It will be ready for aircraft in June '85, please God.
Towns and villages in the region are preparing themselves for an economic boom.
An RTÉ News report broadcast on 21 November 1984. The reporter is Jim Fahy.