The Janelle Shopping and Leisure Complex in Finglas is opened by the Lord Mayor of Dublin Bertie Ahern.
Developed by Monarch Properties on the site previously occupied by the Janelle clothing factory in Farnham in Finglas, the £12 million Janelle Shopping and Leisure Complex contains 31 shops including the supermarket Super Crazy Prices, and will employ an estimated 275 people.
The fully enclosed shopping complex includes a central square with extensive landscaping and a large fountain as a focal point. Additional building work is underway on adjacent light industry units and leisure facilities which will include a snooker club and a cinema.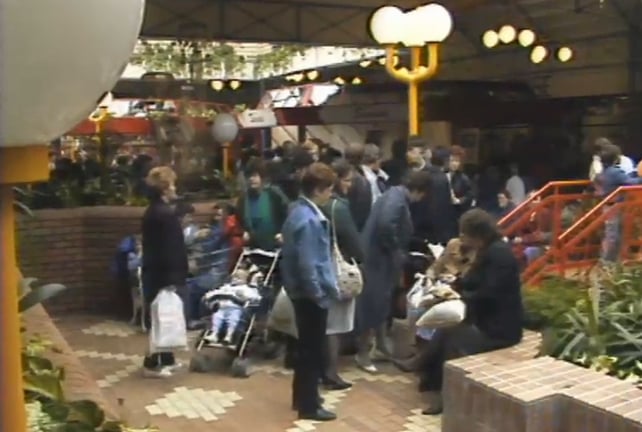 The Centre was officially opened by the Lord Mayor of Dublin and Minister for Labour Bertie Ahern. Thousands of local people attended the celebrations with the added incentive of finding some opening day bargains. Attendees interviewed were unanimous in their support for the Centre and the hopes for the benefits it will bring to the area.
I think it's marvellous, it's about time, as we're here 12 years and it was needed very badly.
Young people in particular are looking forward to the opening of the leisure centre and feel the snooker hall will make a big different to their lives as they will no longer need to
Hang around the roads or go into town.
From the outset Fine Gael TD Mary Flaherty backed the Centre's development against opposition from local traders. She believes that competition is a good thing and the Centre will
Attract more shoppers to the total Finglas area, and that will be to everybody's benefit hopefully.
An RTÉ News report broadcast on 10 April 1987. The reporter is Caroline Erskine.