The first model of the latest Rolls Royce the 'Silver Spirit' has arrived in Ireland.
The Silver Spirit the new luxury car from Rolls Royce costs £50,000 in Britain. However, in Ireland due to import taxes, the price is £19,500 more.
She's the Silver Spirit. Two and a quarter tonnes of unadulterated opulence and the result of eight years designing and planning.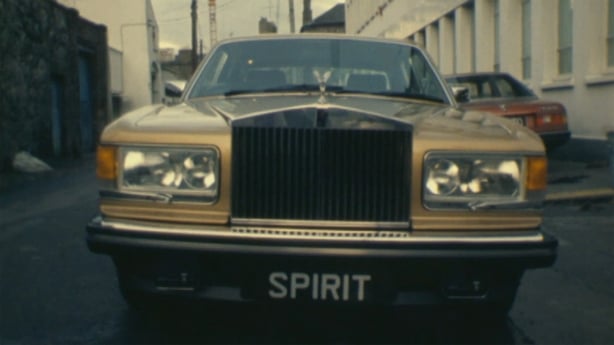 Rolls Royce 'Silver Spirit' (1980)
Just ten Silver Spirits have been allocated for sale in Ireland over the next year. Despite the high price, the latest Rolls Royce is in demand.
The queue is already performing to sample the rich upholstery of six complete cow hides. Not to mention of course the floor carpeting of pure lambswool.
The car has a V8 6750 cc engine. As for the fuel economy, if you have to ask, you can not afford it. For those who can not afford it, the Silver Spirit can do about 16 miles to the gallon.
The car comes with additional extras such as a picnic table at a price of £1,200. However, these are limited in supply due to manufacturing demands.
An RTÉ News report broadcast on 17 November 1980. The reporter is Colm Connolly.