An attempt to blow up a monument of King George IV in Dún Laoghaire.
The blast went off at 3 am but only slightly damaged the King George IV statue on Carlisle Pier in Dún Laoghaire and blew the windows out of the nearby British Rail offices.
According to Army bomb disposal experts and members of the Gardaí, a gelignite bomb was triggered by a timing device to cause the explosion. However, the only damage to the monument was a crack in the base.
Gardai from the Technical Bureau at Dublin Castle are still combing the area for clues.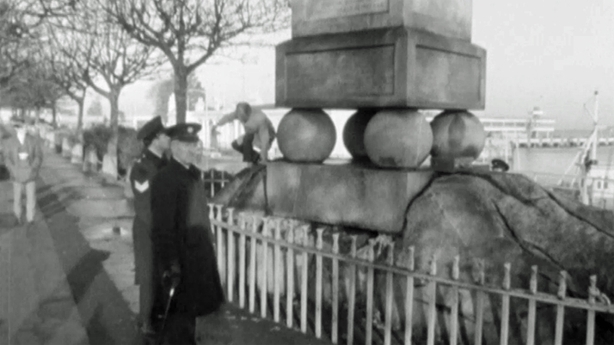 King George IV, Dun Laoghaire (1970)
The 40 foot high King George IV granite statue was erected in 1823 to commemorate the visit of King George IV to Ireland in 1821. The obelisk stands on four granite globes.
This was the second attempt at a bomb blast in Dublin in the space of two days. A gelignite explosive device was discovered at Howth Yacht Club but was dismantled before going off.
An RTÉ News report broadcast on 16 November 1970. The footage shown here is mute.