Eyewitness accounts of the chaos and confusion following bomb blasts in Dublin city centre.
On 17 May 1974, a series of car bombs exploded in Dublin and Monaghan killing thirty three and injuring almost three hundred people. The first bomb went off at 5.28 pm on Parnell Street; the second at 5.30 pm on Talbot Street; and the third at 5.32 pm on South Leinster Street. A fourth car bomb exploded at 7.58 pm in the town of Monaghan.
'Seven Days' reports on the day of the bombings. At the time, it was reported that fifteen people had been killed in the Dublin car bombs and 4 killed in Monaghan. A further twenty eight people were seriously injured in Dublin and around twenty seriously injured in Monaghan.
Ted Nealon introduces a panel of people who were on the scene of the various attacks in Dublin.
Managing Director of Chubb Alarms Seán Flood describes what he saw as he was about to leave his office at around 5.30pm
Out of the corner of my eye I saw this massive flash and I said My Gosh, A bomb, Dive.
However, Sean's colleague didn't dive and looked out the window as the blast occurred suffering facial injuries from flying glass. Other staff also suffered injuries. The injured were carried in from the street and his first thought was to tend to them with first aid kits. He then called through to their communications centre to request an ambulance and the police. Chubbs had a direct line to the Gardaí and emergency services due to the security nature of their business.
For someone who has travelled extensively to Northern Ireland, it was something of a shock to me to see this sort of thing happening in Dublin.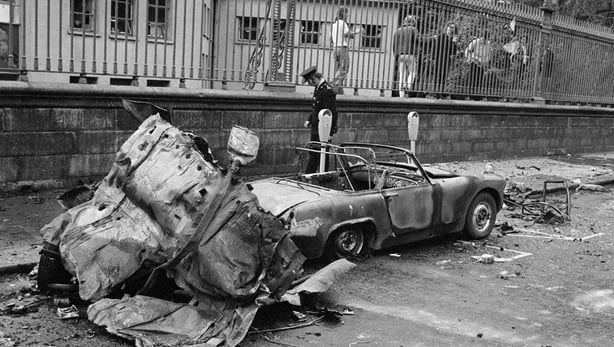 Aftermath of bomb in South Leinster Street (1974)
Maurice Cowan arrived at the scene of the explosion about a minute after it occurred where he saw an elderly man badly injured at the entrance to South Leinster Lane and also the body of a young girl.
His foot was badly mutilated and he had other severe injuries.
Mr Cowan understands that an elderly woman was also killed on South Leinster Street beside Trinity College. Having witnessed the scenes of shock and chaos that followed the blast, he appealed to the public to obey the instructions of the Garda authorities in the event of a repeat attack.
They are not used to this sort of thing happening in the Republic.
Two other eyewitnesses, Noel Breen and Ciaran Connolly, both from Northern Ireland, describe the scenes of utter confusion as the Gardaí struggled to respond to the situation.
This episode of 'Seven Days' was broadcast on 17 May 1974. The presenter is Ted Nealon.

'Seven Days' began broadcasting on 26 September 1966 and was RTÉ television's flagship current affairs programme for ten years. The programme's young production team was made up of producer Lelia Doolan, directors Eoghan Harris and Dick Hill, and reporters John O'Donoghue, Brian Cleeve and Brian Farrell.
Muiris Mac Conghail became the producer of 'Seven Days' in 1967 when the programme was merged with another current affairs programme, 'Division'.