Taoiseach Liam Cosgrave condemns the acts of the bombers in both Dublin and Monaghan and sympathises with the victims.
As the news broke of the bombings in Dublin and Monaghan Taoiseach Liam Cosgrave cancelled the weekend Fine Gael Ard Fheis, had consultations with the Minister for Justice and Minister for Defence and summoned a full government meeting.
Mr Cosgrave then recorded a statement, broadcast on television and radio, sympathising with the victims and condemning the bombings.
Car bombs had exploded in three Dublin city-centre locations, Talbot Street, Parnell Street and South Leinster Street, killing 26 people. The second attack in Monaghan Town killed another 7 individuals.
The government and I wish to express our profound sympathy to the relatives of the victims of today's outrages and to those who have been injured and maimed. To the evil men who have perpetrated these deeds we express the revulsion and condemnation which every decent person in this island feels at their unforgivable acts.
The government is as yet unaware of who is responsible for the bombings and Mr Cosgrave states that all those who have condoned violence must bear a share of responsibility for the fatal attacks.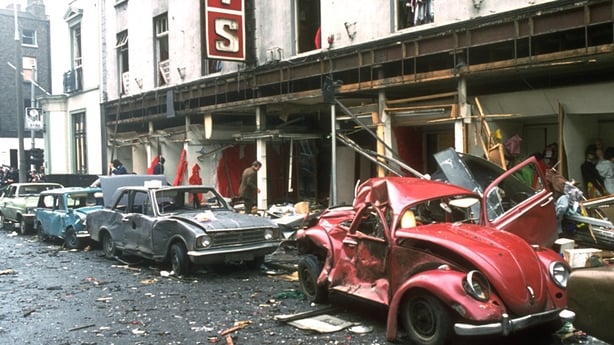 Guineys bomb-damaged shop on Talbot Street, Dublin
Mr Cosgrave went on to praise the efforts of all the emergency services, and thank the hundreds of ordinary civilians who responded so readily to donate their blood. He reassures the public that the Gardaí and the army will provide citizens with all the protection they can but urges the public for vigilance and cooperation. The Taoiseach appeals to the public to report anything unusual or suspicious.
The Taoiseach says that these bombings will serve to strengthen the resolve of people north and south of the border who have been working for peace in Ireland.
It also helps to bring home to us here in this part of our island what the people in Northern Ireland have been suffering for five long years.
An RTÉ News report broadcast on 17 May 1974. The reporter is Donal Kelly.