A wooden figure of an Irish dancing man used to beat out a tune is revived in time for the Fleadh Nua in Ennis.
Musicians, dancers and singers are gathered in Ennis, County Clare to participate in An Fleadh Nua. Also among them is the maker of the Irish dancing man, an fear rince, Liam O'Sullivan.
The history of the jigging wooden figure goes back to penal times when it was illegal to have musical instruments of any kind. A stick is placed in a jointed wooden man's back enabling the operator to jig the figure on a platform.
In February 1983, Irish traditional musicians Liam Clancy and Tommy Makem, performed at the National Concert Hall in Dublin. Two months later, RTÉ television broadcast this concert as 'Makem and Clancy at the National Concert Hall'. During the duo's performance of 'Little Beggarman' Liam Clancy manipulated a wooden dancing figure to dance to the beat of the song.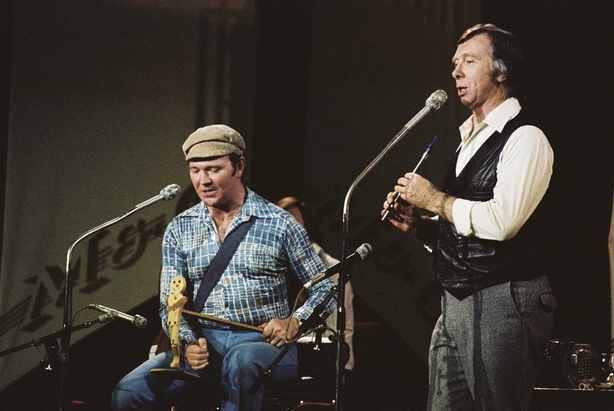 This concert inspired Liam O'Sullivan to get in touch with Makem and Clancy's secretary, whereupon he learned the figure used by Liam Clancy had been stolen.
So be God, I asked him if he'd make out the plans for me, design it, and I'll do him one, and sure I did and I sent it off to him.
From there a cottage industry was born. Assisted by his wife, Liam O'Sullivan makes 50 Irish dancing man figures a week. Everything about the product is based in Clare, from the raw materials used, to the packaging design and printing.
The Irish dancing man is being launched at An Fleadh Nua and is already on sale at the Ballycasey Craft and Design Centre in Shannon. Liam O'Sullivan also hopes his Irish dancing man will be available at Bunratty Castle and in the Shannon Airport duty free shop.
This episode of 'Ceol' was broadcast on 22 October 1985. The producer and director is Art Ó Briain.