Shannon has developed into a complex network of services and facilities becoming more than just an airport.
Shannon Airport marks the anniversary of the first commercial transatlantic flight into Foynes in 1939 and demonstrates how it has successfully dealt with threats to its existence.
In 1947 the government established Shannon as the world's first customs free airport. But Shannon is more than a typical airport as it has an industrial zone based on a customs free area.
The highly successful duty free shop at Shannon Airport was the brainchild of businessman Brendan O'Regan.
It became a highly successful enterprise and one of the first indications that Shannon was to take on an individual character.
Transit passengers from all over the world enjoy the experience of the duty free shop,
A sort of fairyland into which they wander after they leave their planes during refuelling stops or just before they set off on a flight.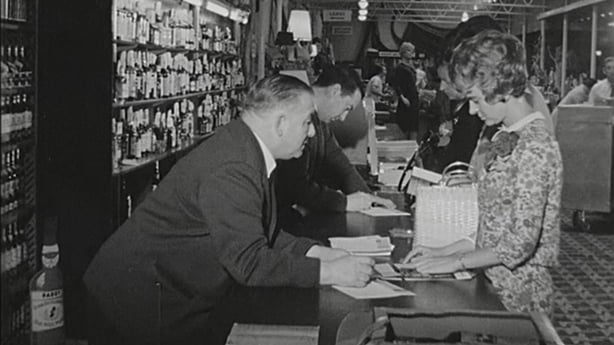 Brendan O'Regan got around the problem of diminishing tourists at Shannon with air freight, and to promote the freight, factories at the airport itself enjoying all the benefits of a customs free zone.
1959 the Shannon Airport Development Company was formed with substantial government backing, Brendan O'Regan was appointed chairman and the intention was to attract Irish and foreign capital to the industrial estate.
There are more than 4,000 people working in the complex at Shannon and half of these are employed by the twenty companies who have opened factories in the industrial zone. Flowing from the factories are economic benefits to the whole hinterland of Shannon. Nearly half of the people who work at Shannon live in Limerick and spend an estimated £1 million per year there. The town of Ennis in County Claire also benefits.
'Shannon Jubilee (1939 – 1964)' was broadcast on 6 September 1964. The presenter is Al Byrne.