Vegetation and bird life on destroyed by sweeping fire on the island of Ireland's Eye.
Fire swept across Ireland's Eye last week causing enormous damage to its ecosystem. The recent drought conditions on the east coast of Ireland meant the fire burned for two days before extinguishing itself.
This tiny island of approximately fifty acres is situated north of Howth Harbour in Dublin Bay and inhabited primarily by sea birds. A team of ecologists from An Taisce have come to survey the damage and identify what conservation measures can be put in place.
Dr David Jeffry from Trinity College Dublin's Botany Department who is leading the team estimates that eighty per cent of the island has been burned. Re-seeding using seeds from surviving plants is one option available to them at the moment,
We will probably have to gradually re-introduce plants...by means of seed and other plant parts.
Grass seed was laid in two areas today, and the team will return in September to check its progress. The team also took samples of the soil for examination to see how best the island can be re-vegetated.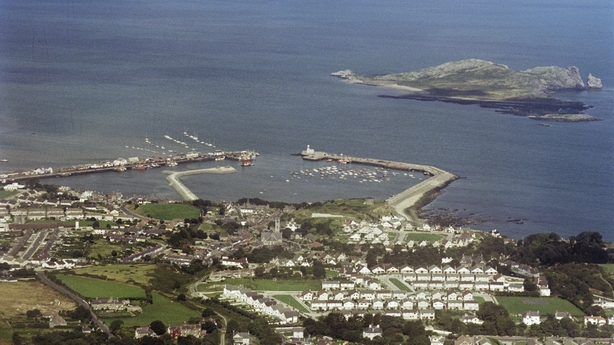 Howth Harbour and Ireland's Eye (1979)
While the bird life was able to move to other parts of Ireland's Eye, the young birds suffered the most. Vulnerable because they have not yet grown big enough yet to be able to fly, many were able to get to safety, but not all,
Young fledglings suffered the most...some of them didn't make it.
An RTÉ News report broadcast on 9 July 1975. The reporter is Conor McAnally.