A warm welcome for the gun running yacht 'The Asgard' back into Howth, County Dublin on Sunday July 30 1961.
President Eamon De Valera, an Taoiseach Sean Lemass and Minister for Transport and Power Erskine Hamilton Childers welcome the gun running yacht 'The Asgard' into Howth, County Dublin on Sunday July 30 1961.
They had gathered for a reenactment of the 1914 landing of weapons at Howth using some of the original rifles.Taking part in the event were surviving members of the Irish Volunteers, Fianna Éireann, the FCA and An Slua Muiri (Sluagh Muiri).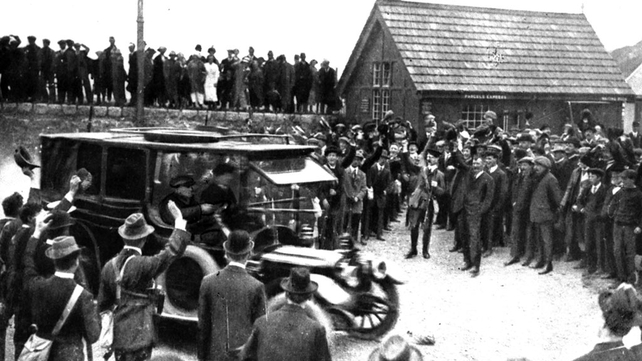 'The Asgard' gun running at Howth (1914) from the RTÉ Cashman Collection
The Asgard had brought 900 Mauser rifles which were delivered to the Irish Volunteers. The yacht was previously owned by Minister Childer's father, the writer and English born Irish Nationalist Robert Erskine Childers.
In 1961 the Irish government purchased the vessel for naval training. 'The Asgard' set sail on this trip from Southampton to Howth following a refit. The yacht was commanded by Lieut Joseph Deasy of Dungarvan and the Irish Naval Service crew consisted of Lieut Thomas Cronin of Howth, Petty Officer Jack Flannagan of Cobh, Petty Officer Michael Sheil of Wexford, Able Seamen Tony Sherlock, William Treacy and Gerald Curran from Dublin.
The photograph from the Cashman Collection shows Irish Volunteers who had just collected the weapons at Howth being cheered by crowds as they drive by in a motor car on 26 July 1914.
Though Telefís Éireann did not start transmission until 31 December 1961 cameras did film a variety of events in Ireland in the months prior to television going on air. This was one of the many events recorded and used in as edited package transmitted on opening night on 31 December 1961.