The Limerick village of Adare hosts a three week music festival.
New Jersey Symphony Orchestra, the National Symphony Orchestra, The Chieftains, Phil Coulter, Julian Lloyd Webber are among the many artists who will perform in a two thousand seat marquee in Adare.
The tiny village of Adare in County Limerick will play host for the next three weeks to a musical extravaganza.
The festival will cost over £800,000 funded by Tom and Judy Keane, the American owners of Adare Manor is expected to make a loss.
There's no way this festival will make money.
If the losses are not too substantial, the festival could become an annual event.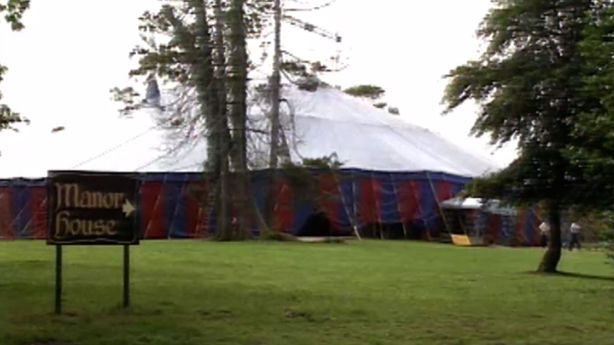 Tent in Adare County Limerick
Hugh Woulfe, conductor with the New Jersey Symphony Orchestra, is looking forward to performing in the marquee, which he describes as no ordinary tent.
The performers in Adare over the next few weeks reads like a who's who of the music world.
An RTÉ News report broadcast on 13 July 1990. The reporter is Michael Lally.