Instrument maker Cathal Gannon talks about the art of making and restoring harpsichords and pianos.
Born and bred in Dublin's Liberties into a family of carpenters, Cathal Gannon served his carpentry apprenticeship in the Guinness Brewery.
Now retired, he makes harpsichords and restores pianos in his workshop on Knockmaroon Farm, Castleknock. He is also an amateur horologist,
A man who has contributed enormously to the musical life of his city.
Cathal Gannon demonstrates his own musical talent playing a harpsichord copied from one built in 18th century France, a square piano which dates from 1796 and which he restored.
A cabinet piano from 1813 is also resident in his home, as is a copy of a Viennese forte piano from 1784, similar to the type Mozart would have played, and which he regards as requiring further work.
In his workshop Cathal Gannon explains how working in the Guinness Brewery gave him his start in the instrument making profession.
Having been interested in the revival of old musical instruments since childhood, he spent many hours looking around Dublin's antique shops in the hope of finding a harpsichord, to no avail. Undeterred, he took a different path,
I decided there was only one thing to do – make it.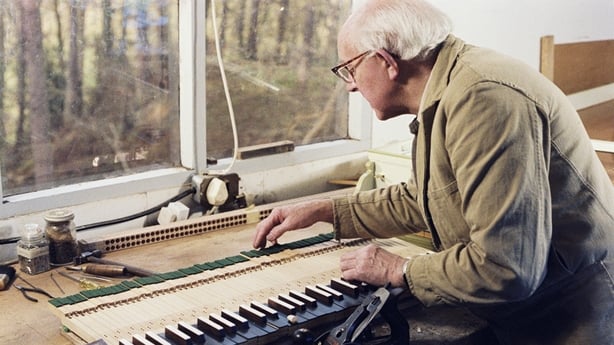 Cathal Gannon in his workshop (1980)
His built his first harpsichord in 1952 with measurements taken from an eighteenth-century one in the Benton-Fletcher collection in London.
When word got back to Lord Moyne (Bryan Guinness), vice-chairman of the Guinness corporation about the carpenter who could make instruments, Cathal Gannon was given permission to build harpsichords on company time.
Extending a helping hand to young musicians is important to him, as he knows only too well from personal experience how prohibitive the cost of such a specialised instrument is. Currently working on number six of a series of harpsichords created for young musicians, he charges for materials only.
And with no master to teach him, Cathal Gannon's instruments are a combination of his background in cabinet making, and his genius,
He re-created in Dublin the tradition of making fine keyboard instruments.
One of the harpsichords made by him during his time in the Guinness brewery is housed in the Royal Irish Academy of music, and it is worth noting that the revival of harpsichord playing in Ireland is not just attributed to universities and music schools, but also to,
This son of Dublin's inner city.
'Sense of Excellence: Cathal Gannon Harpsichord Maker' was broadcast on 14 May 1980. The presenter is Justin Keating.
This programme contains photographs which are not RTÉ copyright.