Hearing seeks the opinions of developers and residents for the new urban quarter at Spencer Dock in Dublin.
Planning Permission has already been granted by Dublin Corporation for the construction of the National Conference Centre and another commercial block situated between the International Financial Services Centre (IFSC) and the Point Depot. Outlying permission was also granted for several more residential and office blocks. However, developers and the local community are appealing this decision. The hearing begins today.
Dublin city's newest quarter is planned for Spencer Dock.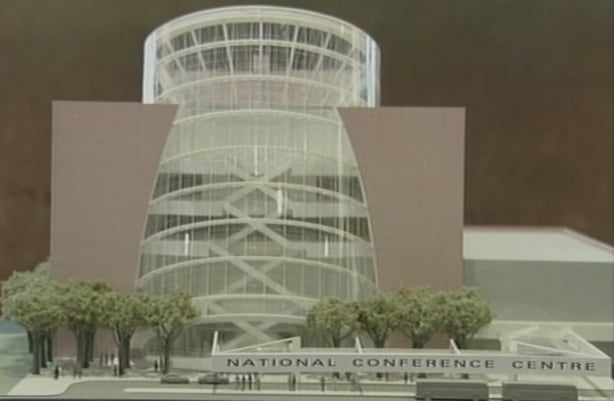 Plans for the National Conference Centre (2000)
Chief Planning Officer at Dublin Corporation Pat McDonnell described this development as a focal point for the city. However, residents are not so enthusiastic and believe the development would overshadow their homes and block any natural light.
The developer said that sixty seven per cent of the fifty one acre site will remain as open space and will be accessible to the public. This is seen in contrast to the IFSC which they described as a fortress with very restricted access.
Businessman Dermot Desmond, the man behind the IFSC, will make his objection at the hearing tomorrow. He believes that the design of the building is bad for the city.
There is currently a study being undertaken into the future of high rise buildings in Dublin. An Bord Pleanála has been urged not to make any decision until the findings of this study have been published.
An RTÉ News report broadcast on 21 February 2000. The reporter is Carole Coleman.