The dismantling of a Dublin landmark the gasometer on Sir John Rogerson's Quay.
Built in 1934 the gasometer used to hold three million cubic feet of gas and was the first thing visitors saw when they arrived in Dublin by the Liffey,
Ach anois tá na gasometers móra á leagan agus tá ré eile i stair na príomh-cathrach caite.
Architect Seán Ó Laoire of Murray Ó Laoire talks about plans for the redevelopment of the site.
Beidh tithíocht, ionad gnó, óstán agus ionad caitheamh aimsire sa cheantar. Beidh 3,000 duine in a gcónaí ann agus 5,000 ag obair ann.
This episode of Cúrsaí was broadcast on 17 February 1994. The reporter is Seán Ó Méalóid.

'Cúrsaí' was an Irish language series which ran on RTÉ Television from 1986 to 1995. In its early days, Cúrsaí was billed as "iris-chlár le béim faoi leith ar chúrsaí reatha an lae agus ar chúrsaí na tíre i gcoitinne" (RTÉ Guide, 17 October 1986). But it covered a wide range of topics and was broadcast four nights a week, from Tuesday to Friday, on RTÉ 2.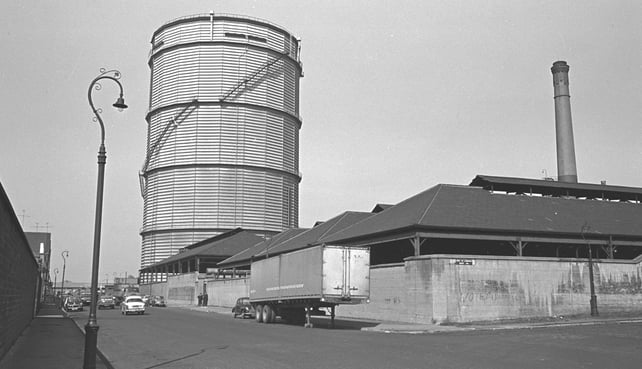 Gasometer at the corner of Cardiff Lane and Misery Hill, 1971.