Having been closed for three months the Malahide viaduct railway line linking Dublin and Belfast opens again.
In August 2009, a section of the rail line at the Broadmeadow Estuary near Malahide collapsed into the water. The bridge has now been rebuilt and trains along the line began running again from early morning.
Passengers on the first enterprise from Belfast were happy to get the service back but complained of delays.
You'd think they could get it right the first day back.
Iarnród Éireann said the delays were the result of signalling restrictions for the re-opening. It will take at least another two months to complete an inquiry into the collapse last August.
Barry Kenny, Corporate Communications Manager at Iarnród Éireann, says the investigation is ongoing.
Malahide Sea Scouts had warned that the bridge was in danger five days before it collapsed into the sea.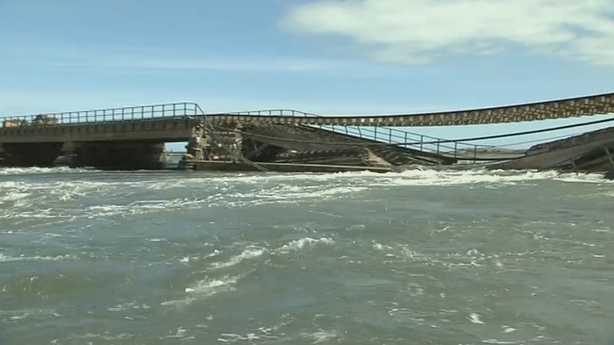 Malahide Viaduct Collapses (2009)
Ivan Barrett of Malahide Sea Scouts says that they thought the bridge would survive a few months rather than just a few days.
An RTÉ News report broadcast on 16 November 2009. The reporter is John Kilraine.