Horse trading in Ballinasloe as thousands attend the week long October fair in the Galway town.
Fair week in Ballinasloe, is of vital importance to the commercial and social life of the town. Trade in agriculture and tourism in the County Galway town is brisk with President of the Ballinasloe Show Society Patrick J Noonan estimating fair week to be worth about £300,000.
It was feared the development of auction sales, particularly in Galway city could affect traditional horse fairs like Ballinasloe. Patrick J Noonan confirms Bord na gCapall sales at Ballybrit did not damage show sales at Ballinasloe. However if Bord na gCapall sales continue, in the long term,
Will affect both the quality and quantity of horses for sale in Ballinaloe and horses for entry in our showgrounds here.
Horse trading is in full swing at the Ballinasloe Horse Fair and the number of horses on offer are more or less in line with those of other years.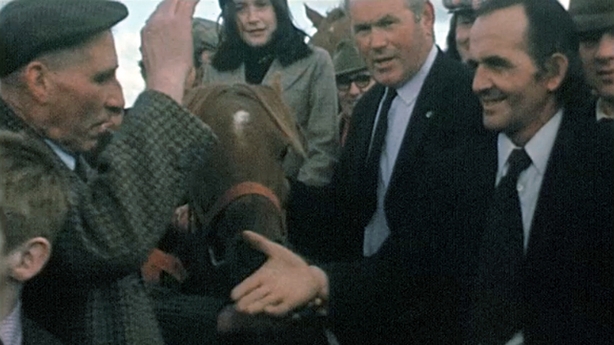 The Ballinasloe Show Society is thriving with entries in the various classes up by more than 15 percent and jumping entries increased by approximately 20 percent.
Those not so interested in equine matters at the fair can try their luck with fortune teller Madam Price, or seek their thrills on the fairground rides.
An RTÉ News report broadcast on 30 September 1974. The reporter is Jim Fahy.