The Irish Countrywomen's Association share knowledge and a range of skills at An Grianán in Louth.
Weaving, flower arranging, cookery, quilt making and communication skills are all part of a week-long Meitheal held by the Irish Countrywomen's Association in An Grianán, Termonfeckin, Co. Louth.
At the week-long residential course held in September members from all over Ireland come together to learn new skills and make contacts in a friendly and relaxing environment.
The building itself, a former eighteenth century stately home, was entrusted to the ICA for the benefit of the people of Ireland by the Kellogg Foundation of America and was officially opened in 1954, becoming the first residential adult education centre in Ireland.
'Meitheal' in Irish means a work party, and describes the old Irish tradition where people in rural communities would come together to save a neighbour's hay or help them harvest a crop. That help was then reciprocated, so everyone benefited.
Alice Roden teaches a course in weaving which prepares students for exhibitions and trade fairs. Flower arranging is taught by Wexford florist Rita Lett who is putting the finishing touches to an ICA-themed display,
It's really a welcome to An Grianán.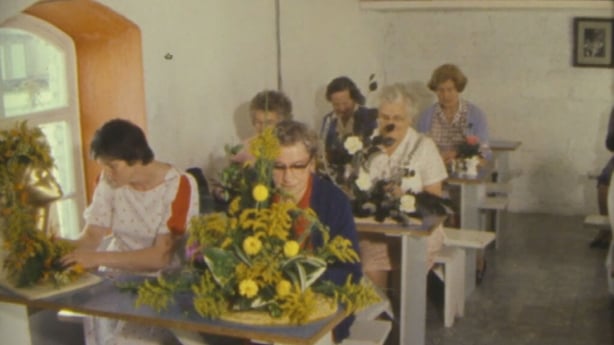 Flower arranging class, An Grianán (1984)
The scope of the ICA's activities has expanded to include communications, and one group are attending a workshop on interview skills for radio and television, with RTÉ journalist Myles McWeeney and RTÉ radio reporter Anne Daly.
Director of An Grianán James Creed explains that the ICA Meitheal was originally held in An Grianán as a means of thanking people who had worked here in a voluntary capacity.
As the college expanded however they saw a need to extend the invitation of the Meitheal to more people who might benefit from its spirit of sharing knowledge and information in an inclusive and welcoming atmosphere,
The week if you like incorporates all that was best in the traditional meitheal.
An RTÉ News report broadcast on 10 September 1984. The reporter is John O'Donoghue.