Ní h-aon ualach léann i gColáiste na hOllscoile Corcaigh, áit ina bhfuil ceol den scoth le chloisteáil agus le sheinnt.
Students in the Department of Music at University College Cork are given the opportunity to immerse themselves in traditional as well as classical music.
The solid musical grounding provided by dedicated professors and instructors takes place in an environment where creativity is nurtured daily.
At an open air workshop with set dancing master Joseph O'Donovan in the university grounds is just one way towards achieving a balance between academic learning and practice.
Professor Mícheál Ó Súilleabháin believes that the inclusion of traditional music on the department's curriculum has triggered a shift in attitude within the department,
Caithimidne gach cúrsa a chaitheamh amach agus tosnú arís, agus cúrsaí a leagan amach...le gach sort ceoltóir, ní hea amháin ceoltóir clasaiceach.
Points achieved in the Leaving Certificate are not necessarily a prerequisite for undergraduate courses in UCC's Department of Music, if you are a good musician.
With this in mind, Professor Nick Sandon, whose expertise lies in the field of mediaeval music, says it's important to him that the academic study of music is made as relevant and as accessible as possible to students. He wants students to come away with the feeling that,
Beethoven or Mozart or Palestrina belongs to them in a very real sort of sense.
Being a member of the University Choir means life is breathed into the theory they have been learning about in the classroom. Under the baton of Jeffrey Sprat, students practice a Mass by Joseph Haydn which they will perform at Féile na gCór.
The late Seán Ó Riada who lectured in Music at UCC from 1963 until his death in 1971, was a pioneer in the revival of Irish traditional music in the early 1950s and 1960s.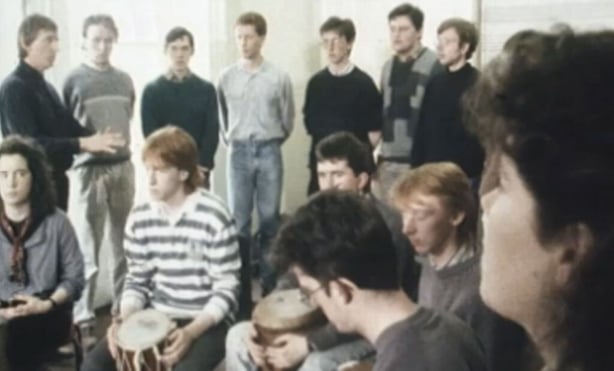 Mícheál Ó Súilleabháin rehearsing with Ripe Cherries (1989)
Mícheál Ó Súilleabhain is staying true to Ó Riada's vision with projects like the Ripe Cherries, a voice and instrumental ensemble. They are led by Mel Mercier on piano, son of The Chieftains bodhrán player Peadar Mercier,
Meascán do ghleásannaí ceoil traidisiúnta agus gleásannaí ón Ind, Breasil agus ón Aifric a chasann Ripe Cherries.
This episode of 'Iris '89' was broadcast on 24 June 1989. The reporter is Maireád Ní Nuadháin. 'Iris' was broadcast from 1986 to 1990.