Composer Mícheál Ó Súilleabháin on the challenge of writing new music to accompany the restored silent film 'Irish Destiny'.
Mícheál Ó Súilleabháin talks about some of the challenges that arose when he was commissioned to compose music for the film 'Irish Destiny'. 'Irish Destiny' a silent film set during the Irish War of Independence was first released in 1926, ten years after the Easter Rising.
The innovative film makers also incorporated original newsreel footage which showed the burning of Cork and the Black and Tans among others, enhancing the dramatic narrative.
The print of the film, long thought to be lost, was found in the Archive of the Library of Congress in Washington DC in 1991, and restored by the Irish Film Archive. Any record of what music would have originally accompanied the film was no longer in existence.
Mícheál Ó Súilleabháin says he enjoyed coming up with music for a film so interesting. He was very conscious however that the process is primarily about someone else's work. The challenge lies in composing a score that would not stand in the original film's way,
Is dócha is é an difríocht is mó atá ann go bhfuil rud déanta ag duine éigin eile, 's atá tusa ag teacht isteach ar an scéal ina dhiaidh.
There is a definite Irish feeling to the new score. One of the sources he drew on for inspiration is Amhrán na bhFiann, Ireland's National Anthem,
Is dócha go bhfuil sé le cloisint ag an gnáthdhuine freisin, cé go bhfuil sé briste suas agam istigh ins an ceol fhéin.
The world premier of the new music, accompanied by a screening of a restored print of 'Irish Destiny', performed by the RTÉ Concert Orchestra with Mícheál Ó Súilleabháin on piano took place in the National Concert Hall on 11 December 1993.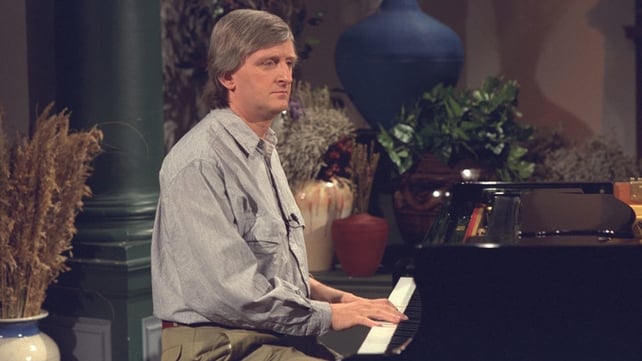 Mícheál Ó Súilleabhain, 'The Pure Drop' (1991)
A native of Clonmel, County Tipperary, Mícheál Ó Súilleabháin studied music in University College Cork (UCC) under Seán Ó Riada and Aloys Fleischmann, before going on to Queens University Belfast where he studied for a PhD with ethnomusicologists John Blacking and John Baily.
He worked as a teacher before returning to the Music Department in UCC, and was a visiting Professor at Boston College in 1990.
Ó Súilleabháin recorded extensively with the Irish Chamber Orchestra, with his first wife, chant singer Nóirín Ní Riain, Van Morrison, and many traditional musicians in Ireland and abroad.
He also produced a series of recordings on the the traditional music of not just Ireland and Irish traditional musicians among the diaspora, but also the Shetland Islands and Cape Breton Island.
Mícheál Ó Súilleabháin died on 8 November 2018.
This episode of 'Cúrsaí' was broadcast on 9 December 1993. The presenter is Seán Ó Mealóid.