Unions join the Campaign for Nuclear Disarmament in calling for a ban on all warships and aircraft armed with nuclear weapons from Irish territory.
The Local Government and Public Services Union and the Irish Campaign for Nuclear Disarmament join forces to ban nuclear arms on board naval warships visiting Irish ports and military aircraft using Irish airspace.
An increasing number of foreign naval warships visit Irish ports and seven thousand foreign military aircraft to use Irish airspace. They are not required to declare if they are carrying nuclear materials.
All this is detailed in 'The Case For A Nuclear Free Ireland', the CND and the LGPSU's (Local Government and Public Services Union) document, which was launched today.
Phil Flynn, Secretary General of the LGPSU explains why public and civil servants support a nuclear free Ireland,
We believe that peace and freedom from the threat of nuclear weapons, the threat of mass destruction, are trade union issues.
The document includes proposals for new legislation in this area, including written assurances that foreign ships and aircraft are not carrying nuclear weapons in Irish territory. The Irish government should have the power to inspect them to make sure that foreign states are complying with Ireland's nuclear free measures.
Irish CND President John De Courcy Ireland says that it is time for politicians in the Dáil and in Brussels to stand up and say no to the presence of nuclear ships in Irish waters and aircraft flying over Ireland,
There should be legislation to keep them out.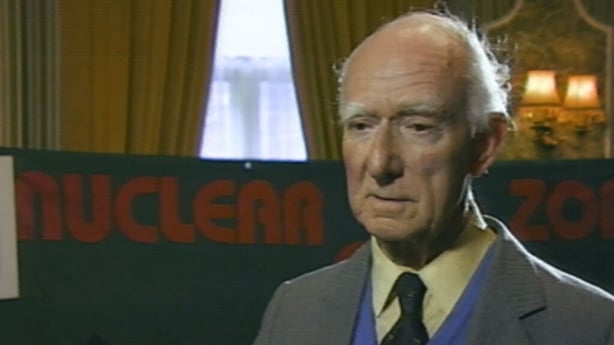 Irish CND President John De Courcy Ireland (1989)
An RTÉ News report broadcast on 31 May 1989. The reporter is Teresa Mannion.