At a preschool in Monkstown children learn through play and song all through the Irish language.
Lá Náisiúnta Na Naíonraí highlights the role of the language preschools, with various events for children attending Naíonraí being held around the country.
Teacher Mairín Feiritéar in the Monkstown Naíonra explains that the aim is for young children to learn the language in such a natural and fun way that they do not even realise it. Many in the current group do not speak Irish at home, and the leap in learning is clear in children who started with the preschool the previous September,
Tuigeann siad gach aon rud a deirimse leo, cibé go dtugadís an freagra i mBéarla.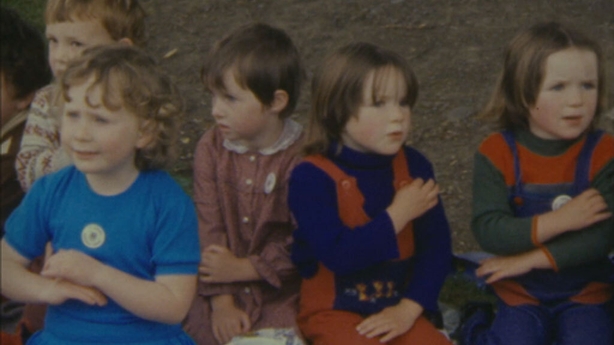 Children in Monkstown Naíonra (1984)
While Naíonraí have received recognition from the State, at present they do not receive any funding, and must charge fees. Mairín Feiritéar says that the interest from parents is there, but the issue of cost is a barrier,
Dá mbeadh tacaíocht againn ón stat bheadh níos mó daoine ábalta a gcuid páistí a chur go dtí an Naíonra.
An RTÉ News report broadcast on 30 May 1984. The reporter is Liam Ó Muirthile.