Ar feadh roinnt uaireanta a chloig gach lá, bíonn fhios ag máithreacha lár na cathrach go bhfuil a gcuid bpáistí ag spraoi in áit shábháilte, gar don bhaile. Ach tá pleananna ag Bárdás Áth Cliath na clóis súgartha seo a dhúnadh.
In addition to playgrounds, the community resource centres run by Dublin Corporation have among them a swimming pool, basketball, indoor play areas, and they also run summer projects. They are staffed by qualified childcare and youth workers.
'Iris '88' reporter Maireád Ní Nuadháin talks to Barbara, one local mother, who says her children use one Dublin Corporation playground and community centre regularly, and that it should remain open,
At least you know they're safe in there. If they were running around now outside, I wouldn't let them out.
Frances Beausang works with the National Youth Council of Ireland. According to her, the numbers of children attending the resource centres and playgrounds show how vital these amenities are. Children need a space in the community to play and somewhere to enjoy their hobbies, and that might not always be available to them at home.
It's also not just about the Corporation providing playgrounds, as there are wider problems in the community. For some children, the play areas are safe places for them, and there are adults present who are qualified to help them, in case they need it,
Sna h-áiteacha ina bhfuil na h-ionaid, tá a lán fadhbanna acu tá a lán dífhostaíochta ann, tá fadhbanna clainne acu agus cuid acu, níl na tuismitheoirí ag iarraidh iad a bheith sa mbaile ar aon nós. Tá cuid acu nach bhfuil ag freastal ar scoil.
Dublin Corporation have proposed running the playgrounds in partnership with voluntary organisations, but Frances says the Corporation must continue to provide funding and staff to keep them open, as the voluntary sector is already providing services in this area,
Tá a lán eagras ann a dhéanann obair dheonach cheana féin, agus ní féidir leo gach rud a dhéanamh, agus ní fiú iad a dhúnadh síos, like, níl aon ghá dóibh iad a bheith dúnta síos.
'Iris' was an Irish language features programme broadcast from 1986 to 1990.
This episode of 'Iris '88' was broadcast on 13 March 1988. The reporter is Maireád Ní Nuadháin.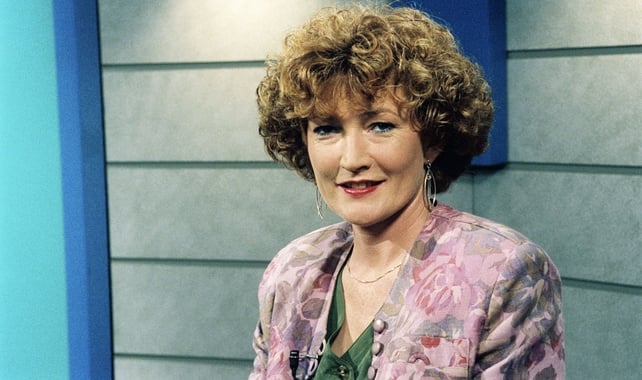 Maireád Ní Nuadháin (1993)