Fine weather and big crowds as parades and events across the country mark National Children's Day.
Thousands of parents and children turned out in Dublin for the biggest parade organised for National Children's day. One little enthusiastic dancer broke from the crowd before being rescued from an approaching marching brass band.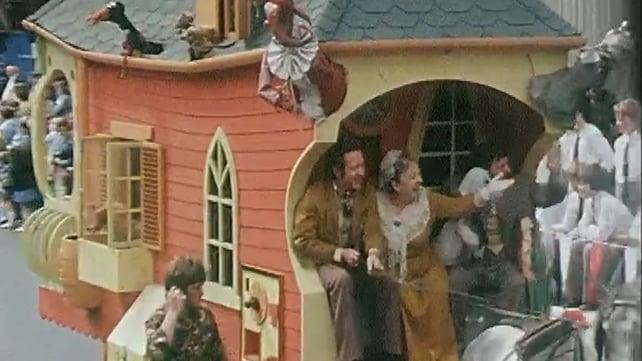 Wanderly Wagon (1976)
The horse-drawn wagon from the RTÉ children's programme 'Wanderly Wagon' led the parade with the full cast Bill Golding as Rory, Nora O'Mahony as Godmother, and Eugene Lambert as O'Brien.
The parade including a variety of floats, marching bands, majorettes, girl guides, sports clubs, children dressed in a range of costumes and a Dalek moved from St. Stephen's Green to the review platform at the General Post Office.
The back of a truck doubled as the reviewing stand where Dublin's Lord Mayor Councillor Paddy Dunne in the company of city councillors, television personalities Bunny Carr and Charles Mitchel, the founder of the National Children's Day Tony Barry and the President of the National Children's Day organisation Fr. Michael Cleary took their seats.
An RTÉ News report broadcast 13 June 1976.