Niall Quinn is a young man hoping for a career playing football and aims to make it at Arsenal.
Niall Quinn an apprentice with Arsenal Football Club gives an insight into his life and routine. Having the opportunity to train with the first team has given the eighteen year old confidence both as a player and as an individual.
When I'm training with the first team, I play ten times better than when I'm training with the youth team.
After training each day, the players are brought to the video room for a tactics session with Steve Burtenshaw and Tommy Coleman, youth development officer and youth coach. The use of video allows the players to see their mistakes and make improvements. It is also an opportunity for players to ask questions.
In Ireland, Niall Quinn was playing for Manortown United when he was spotted by an Arsenal scout. After a series of trials and a visit where he was impressed by the setup he signed for Arsenal.
Fellow Irish man and Arsenal player Dave O'Leary recalls what life was like for him when he joined the club. He recalls the adjustment required coming from youth football in Dublin and the work required to get to the top of the game. Arsenal has great results with the young players because of the effort the club puts in and the support it provides. Irish internationals Frank Stapleton and Liam Brady were also given their break at Arsenal and Dave believes the club is a good one for young players to come to.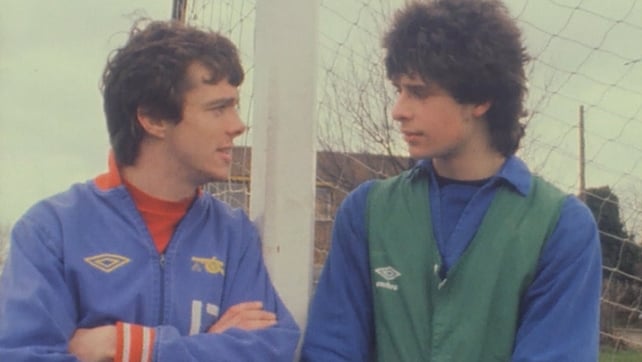 Dave O'Leary and Niall Quinn
Niall Quinn says one of the most difficult challenges is the intensity of the training. Monday, especially if they have been beaten on match day on Saturday. Away from football, he has taken the opportunity to go to college studying English and History.
On match day, Niall Quinn is pleased to be selected for a game against QPR. His experience is a lot different to what he expected and he is grateful for how supportive the club is of young players.
It's a home from home.
For coach Tommy Coleman, it's not just about talent and says that personality is important in becoming a football star.
If Niall adapts himself and works hard at his game, is prepared to listen and learn, then he's got a very good chance.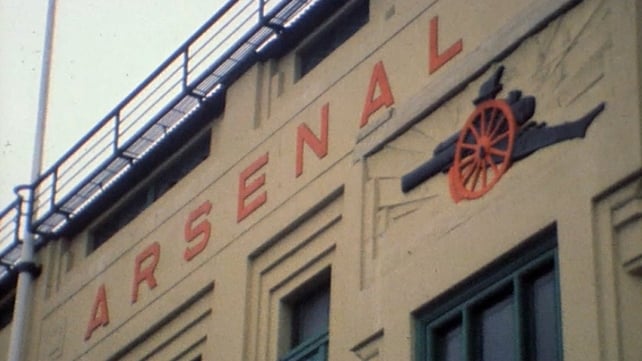 Arsenal Football Ground at Highbury (1984)
Away from the club, Niall Quinn is living with his aunt and uncle, which has made the move to England easier. Outside of football, he is kept busy with his studies and trips away with classmates. A weekend in Wales gave him the opportunity to meet young players from other clubs.
Although he began playing soccer at the age of twelve but never really thought about it as a career. He is now determined to make it to the reserve team by the end of the season.
I would like to gain a first team place. That's my big ambition.
This episode of 'Anything Goes' broadcast on 24 March 1984.
'Anything Goes' was a young people's programme on RTÉ Television. The programme was first broadcast on 4 October 1980 and continued for 6 years.